---
---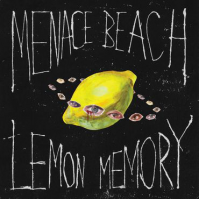 Format
---

MI0432LPX

Long Player

£18.00
Lemon Memory
---
Menace Beach, Leeds based Liza Violet and Ryan Needham, release their new album Lemon Memory.
Lemon Memory is, for Menace Beach at least, an exercise in restraint, the fuzz and distortion turned down, a big last chorus avoided. Liza explains, "The one 'rule' thing we went into the album session with was to keep in mind that sometimes doing The Opposite is much more interesting". Liza takes the lead vocal as she does on much of Lemon Memory. Indeed, if debut LP Ratworld was Ryan's record, Lemon Memory is very much a Liza record. Ryan explains "Liza got that look in the eye and a head-down-blinkers-on thing, and only a moron would try and get in the way of that. It's all about keeping those ideas in their purest form and diluting as little as possible." Written in Ibiza and recorded in Sheffield with Ross Orton (MIA, Arctic Monkeys, The Fall) Lemon Memory is in part an effort to lift a citrus based curse – trust us, it's a real thing - Ryan and Liza believe was placed on their house, via the hexbreaking power of music. It's also the sound of a band finding their own identity, edging closer to some sort of grimy truth.
LP - Indies only lemon scratch n sniff yellow coloured vinyl with download code. This is limited to 500.