---
---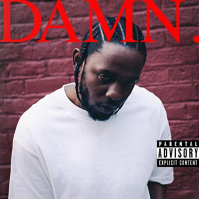 Formats
---

---

5761828

Long Player

£25.00

Expected 30th June 2017
Label
---
Damn
---
Kendrick Lamar's releases his new album Damn. It's his first extended release since last year's demos collection Untitled Unmastered, and his first formal record since 2015's To Pimp a Butterfly. Damn strikes a neat balance between spiritual content, personal reflection and socio-political comment. Countless rappers claim to have transcended the game. Kendrick Lamar actually does. There's the sense his ambitions on Damn are even larger, reaching toward something more universal, fateful even spiritual in its reach to find the link tying all contradictions together. Guests include U2, Rihanna, and Zacari whilst it has production work by James Blake and Steve Lacy from the Internet plus a sample by Essex hellraiser Rat Boy.
Tracklist
1. BLOOD.
2. DNA.
3. YAH.
4. ELEMENT
5. FEEL
6. LOYALTY. FT. RIHANNA
7. PRIDE
8.HUMBLE
9. LUST.
10. LOVE. FT. ZACARI.
11. XXX. FT. U2
12. FEAR.GOD.
14. DUCKWORTH.