---
---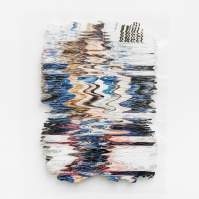 Formats
---

---

WIGLP379

Long Player

£18.00

X

Heavyweight Vinyl with Download.

---

WIGLP379X

Long Player

£20.00

X

Deluxe LP with bonus clear 7" featuring the songs Night Thoughts / Feu de Joie.
Label
---
Solide Mirage
---
In the time since 2014's Piano Ombre, Francois Marry rediscovered his adolescent passion for the power of grunge. This energy he "lost on the way", in his own words, resurfaced on two occasions. A collaboration with Hedi Slimane, who allowed him to immerse himself in the punk and grunge scene of L.A. - with bands like Wand and Sunflower Bean in particular - revived his passion for this electricity. Secondly, and especially, as the band performed live dates in the Middle East, they found themselves playing to a youth still feverish after its Arab Spring. As a man and as an artist, it felt necessary to have that grunge-ful spite, that healthy anger, to survive the horrors of 2015 and the chaos of the world, referred to in "Grand Dérèglement", the introduction of Solide Mirage. Attacks, wars, the migrant crisis, generalised fear, the pre-apocalyptic atmosphere: a dark year for all and one which incited profound questions in Frànçois Marry. Solide Mirage - like an imperceptible dream, a fantasy where reality shifts as one approaches it – is a perfect definition for this protean, changeable-yet-direct album which reveals new facets and new territories in every listen. Sometimes soft (on 1982, Apocalypse a Ipsos, Pepétuel ete, 100.000.000), sometimes tough (Bete Morcelee and its rush of pure grunge, Grand Dereglement and the roughness and splinters of Jamais Deux Pareils), sometimes crazy (the digitized trance of Apres Apres), but always highly political, whether direct or reading between the lines. The album was recorded in Jet Studios in Brussels and produced by Ash Workman, who also worked on Piano Ombre and who has worked with Metronomy and Christine and The Queens, with strings performed by Owen Pallett.