---
---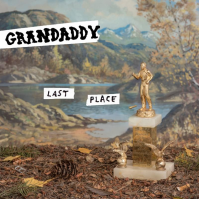 Format
---

GRANRTLP1X

Long Player

£22.00

X

Rough Trade Exclusive Translucent Blue Vinyl, 2k worldwide.
Label
---
Last Place
---
Welcome back Grandaddy! You have been missed, as the incredible, and incredibly packed, show at Oslo last year proved. After Grandaddy broke up in 2006, the band's frontman Jason Lytle relocated to Montana, where he happily made two solo albums, and reconnected with the natural world around him.
Tracklist
1. "Way We Won't"
2. "Brush With the Wild"
3. "Evermore"
4. "Oh She Deleter :("
5. "The Boat Is in the Barn"
6. "Check Injin"
7. "I Don't Wanna Live Here Anymore"
8. "That's What You Get for Gettin' Outta Bed"
9. "This Is the Part"
10. "Jed the 4th"
11. "A Lost Machine"
12. "Songbird Son"