---
---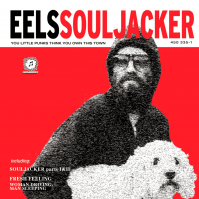 Format
---

4730663

Long Player

£18.00
Souljacker
---
EELS is an American alternative rock band, formed in California in 1995 by singer/songwriter and multi-instrumentalist Mark Oliver Everett, known by the stage name "E." Band members have changed across the years, both in the studio and on stage, making Everett the only official member for most of the band's work. Often filled with themes about family, death and lost love, EELS' music straddles a wide range of genres, which is evidenced by the distinct musical style of every album.
Tracklist
1. Dog Faced Boy
2. That's Not Really Funny
3. Fresh Feeling
4. Woman Driving, Man Sleeping
5. Souljacker Part 1
6. Friendly Ghost
7. Teenage Witch
8. Bus Stop Boxer
9. Jungle Telegraph
10. World of Shit
11. SoulJacker Part II
12. What Is This Note?