---
---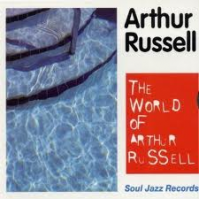 Formats
---

---

SJRLP83

Long Player

£25.00

X

Triple Vinyl
Label
---
The World Of Arthur Russell
---
There appears to be a typo on the usually on-point Soul Jazz label, in that an 'S' is missing from the title of their attempted overview of the enigmatic New York scene cellist Arthur Russell. If anything, there were many musical "worlds" for Iowa-born Arthur Russell, and he floated between them effortlessly in a way that, up until death from AIDS in 1992, no one else had. There was the world of Indian master-musician Ali Akbar Khan, in which Arthur used his cello to trance-inducing effect. There was the world where his cello shadowed the beat-poet Allen Ginsburg at readings, as well as the world of The Kitchen, where he premiered his peculiar minimal compositions while also rubbing elbows with composers like John Cage, Rhys Chatham, and Philip Glass. He was in the rock world, too, nearly joining the Talking Heads and forming the short-lived Flying Hearts with ex-Modern Lover Ernie Brooks. He even briefly produced quirky tracks in the rap world, frustrating young rapper Mark Sinclair who would one day go on to make it as the meat-headed action hero Vin Diesel.
And then there was the world of disco music, where one night in 1977, a DJ saved his life. That DJ, Nicky Siano, would collaborate with Arthur the following year (in a session featuring disparate musicians like David Byrne, Fluxus member Henry Flynt, and the Ingram Brothers) under the name of Dinosaur for the first 12-inch disco single on the Sire label, the leftfield staple "Kiss Me Again". A jubilant marriage of clacking castanets and bells, horns and breathless divas, Byrne's early Afrobeat guitar scratches and Russell's infinitely funky cello, its effect on dancefloors remains iconoclastic and ecstatic, a hot disco joint with little trace of Saturday Night's fever. Unfortunately, neither that track nor the similarly rubbery "Tell You (Today)" were licensed for this compilation, although both can be found on the crucial overview of early 80s dance weirdness, Disco Not Disco (which also features a superior mix of his Indian Ocean track, "Tree House/School Bell").
Despite these painful omissions, the towering high points of Arthur's extraordinary club music are finally gathered onto one disc, in one world. The set opens with the disco favorite "Go Bang #5", as mixed by Francois Kevorkian. From the drunken Don Drummond-esque trombone, weird Bitches Brew-style keyboard doodles, and crisp hi-hats cutting into the hand drums to the mingled masculine/feminine chants of "I want to see all my friends at once go bang, go bang, go bang, get BANGED!!!" its dubby pleasuredome message is undeniable and infectious. Similarly lascivious is the Larry Levan mix of "Is It All Over My Face", whose lyrical meaning vacillates between that of come-on and unbridled aural beatitude on the dancefloor. Both tracks embrace the seeming conflicts of simple physical release and higher levels of ecstatic pleasure and simply let it all go.
With long-time supporter/studio engineer Bob Blank's wife Lola and son Kenny providing the dramatized womanly tone and child-like chirp for 1985's "Wax the Van", Arthur worships the sun, mans the van, and sails towards it like Icarus, seeking to be up "on the higher hill." Underneath all these echoing voices (including his own mumbles), he stretches pulsing bass, percolating congas, and an ocean of polyrhythmic waves into a weird dance song constantly in-flux. When he takes to singing himself, Arthur's voice has a slippery, androgynous nature to it: a breathy, muffled baritone one moment, a cartoonish croon the next, as evident on the way-too-short Walter Gibbons mix of "Let's Go Swimming" (see Disco Not Disco 2). The ultra-obscure "Pop Your Funk" has him pulling out his own rockabilly-meets-Yello goofiness.
Two tracks are taken from the unfortunately deleted collection of songs, Another Thought. "Keeping Up" features a fuzzy, incessant cello as propulsion and the backing voice of 80s trivia answer Jennifer Warnes (who, you might recall, was up where she belonged with Joe Cocker, and had the time of her life opposite a Righteous Brother on the Dirty Dancing soundtrack). "A Little Lost" shows Arthur's ability to concoct a poignant, bittersweet pop song with just cello, guitar, and his echoing voice. The bowed solo in the middle is astonishingly lyrical and emotionally direct, and the final few seconds of his double-tracked voice singing the chorus is a delight.
These songs serve as bookends for what I consider the apex of all Russell's powers and all his worlds: the seemingly infinite yet merely thirteen-minute "In the Light of a Miracle". Merging his Buddha-infused minimalism with the rippling Indian percussion and sustained brass breaths of long-time collaborators Mustafa Ahmed and Peter Zummo, they hover over a gentle four-on-the-floor pulse of devotional bells, vamping Rhodes, piano and strummed guitar. A choir of vaporous voices (including Tower of Meaning conductor Julius Eastman and Elodie Lauten) emerge from a cloud of holy sound, Russell's bowed cello shimmering like columns of white light, the sound of Paradise Garage and Nirvana itself.
As the grave nature of his illness manifests, the earlier, earthly pleasure of his disco songs become as caterpillars, giving way to something more beautiful and elusive. Songs like "Schoolbell/Treehouse", "Let's Go Swimming" or "Go Bang" evolve into something ethereal and beyond rhythm. The enchanting melodies brought forth in the mid-80s on World of Echo (to finally be reissued this year) or Another Thought are formed from his fragile, luminescent voice and cello, these two components bathed in nebulae of infinite echo, suggesting a space loosed from gravity's grip. To hear the changeling voice of man and instrument move as one (as on "Treehouse") is to imagine a butterfly in flight: whimsically fluttering on bubble-gum beats, curlicues of noise, and petals of melody. He reveals organic patterns scarcely glimpsed or grasped before taking off yet again on light-seeking flight beyond this world. That some of that beauty is caught here is heavenly, indeed.