---
---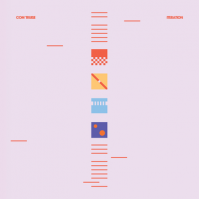 Formats
---

GI296CD

CD

£12.00

Expected 16th June 2017

X

CD is inserted in to a 4-panel digipak on matte stock.

---

GI296LP

Long Player

£25.00

Expected 16th June 2017

X

Standard weight 2xLP vinyl is packaged in printed art sleeves and 2-panel, 5mm spine matte printed jacket. Vinyl includes download card.
Label
---
Iteration
---
"Repetition is a form of change," reads one of Brian Eno's Oblique Strategies. Seth Haley knows the concept well, and his style of technicolour synth-wave takes the mantra as a challenge. Six years after Galactic Melt introduced the cosmic story of Com Truise, Iteration now concludes his sprawling saga. True to its name, the album is built on Com Truise hallmarks: neon-streaked melodies, big drums, robotic grooves, bleary nostalgia. But Iteration is also the most elegant and streamlined that Haley's singular music has ever sounded. At the album's heart is an elaborate narrative, one full of longing, hope, anxiety, and triumph. Iteration illustrates the last moments Com Truise spends on the perilous planet Wave 1, before he and his alien love escape its clutches to live in peace. ...Of Your Fake Dimension launches the interstellar drama with its anthemic swells and widescreen sound design, before lovesick songs like Dryswch and Propagation outline scenes wrought with cybernetic pathos. Later, the frantic rhythms of Syrthio conjure images of panicked flight as Haley's gorgeous synth melodies gild the action in quiet heartbreak. Then comes the resounding When Will You Find The Limit..., when Iteration's pain and sadness finds liberation in the vast unknown. The closing title track ends it all in a gush of majestic revelry. By embracing the music's inherent nature and peerless qualities, Iteration finds new avenues of expression in its vivid, familiar surroundings.
Tracklist
1. ...Of Your Fake Dimension
2. Ephemeron
3. Dryswch
4. Isostasy
5. Memory
6. Propagation
7. Vacuume
8. Ternary
9. Usurper
10. Syrthio
11. When Will You Find the Limit...
12. Iteration