---
---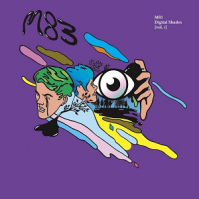 Format
---

NV833261

Long Player

£15.00
Label
---
Digital Shades
---
Digital Shades is an ongoing ambient series from acclaimed French musician M83. It was released in 2007 and features only founding member Anthony Gonzalez.
Inspired by Eno and Krautrock in its many forms, M83 focused heavily on subtleties and atmospherics during the writing process.
Listeners will find the same textured richness throughout the Digital Shades series as can be found on all of M83's releases. And while not a categorical sonic shift, Digital Shades follows its individual elegiac, lunar and dream-like path.
Tracklist
1. Waves, Waves, Waves
2. Coloring the Void
3. Sister (Part 1)
4. Strong and Wasted
5. My Own Strange Path
6. Dancing Mountains
7. Sister (Part 2)
8. By the Kiss
9. Space Fertilizer
10. The Highest Journey