---
---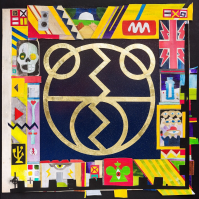 Format
---

ECB391LP

Long Player

£7.00

X

Double Vinyl
Label
---
Night Is Young
---
Two years ago The 2 Bears dropped a debut album that re-invigorated a genre and gathered music fans in the open embrace of house music. On October 13th they return with the second installment The Night Is Young, the eagerly awaited follow up released on Southern Fried.
Where debut smash Be Strong was rooted in their love for London, The Night Is Young takes on a more global vision. With a love for their home city still at its heart, the album pulls influences and experiences from across the world of dance music, drawing deeply from their trip to Africa last summer. As part of a project for Brixton based youth magazine Live, the duo played shows in Cape Town and Johannesburg and spent time recording in a studio run by BLKJKS's Tsepang Ramoba. The lead vocals for Son Of The Sun were recorded there with a young singer called Sbusiso and Kwaito legend Senyaka, who also added his vocal to lead single Angel (Touch Me).
Speeding through multiple genres, often condensed into single tracks, The Night Is Young lifts The 2 Bear's famed, eclectic DJ sets to higher realms, shifting the imperative to lose both body and mind distinctly up a gear. 'I love tunes that disguise things,' says Joe. 'A really sweet melody with a really dark sentiment. Money Man is meant to be like that, you can have those glossy reggae records that still say something. We didn't want to just be in that culture of not saying anything, where it's all a fantasy world and everyone just goes and gets f****d up but no one says anything.' It's a stark contrast and one that cleverly moves the full-on party hedonism of their debut forward, without sacrificing any of its unadulterated disco charm. The record undulates, it's like a taster menu; courses of hard house, soft reggae, punchy ragga, piano tear-jerkers, funk and soul, all made crystalline with the typically high level of production and the passion of Raf's voice.
Tracklist
1. Get Out
2. Angel (Touch Me)
3. Money Man
4. Not This Time
5. See You
6. Son Of The Sun
7. Unbuild It
8. Modern Family
9. Mary Mary
10. Run Run
11. My Queen
12. The Night Is Young