---
---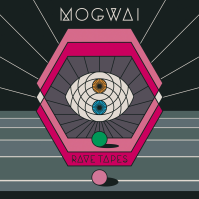 Format
---

ROCKACT80LP

Long Player

£18.00
Label
---
Rave Tapes
---
Following on from the successful and critically acclaimed release of the pathfinding soundtrack to the genre-rewriting Channel 4 / Canal+ undead drama 'Les Revenants' ('The Returned'), 'Rave Tapes' is the first studio album from the Glasgow five-piece since 2011's 'Hardcore Will Never Die, But You Will'.
Recorded at the band's Castle Of Doom studio in Glasgow by the band with Paul Savage, 'Rave Tapes' sees Mogwai battering on the door of 2014 with arguably their strongest set yet.
The album is released through the band's own label, Rock Action.
Tracklist
Heard About You Last Night
Simon Ferocious
Remurdered
Hexon Bogon
Repelish
Master Card
Deesh
Blues Hour
No Medicine For Regret
The Lord Is Out Of Control