---
---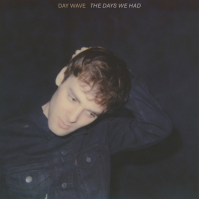 Formats
---

X

Digipack with booklet.

---

DAYWAVE1

Long Player

£18.00

X

Heavyweight vinyl in Gatefold. Includes download code.
Label
---
The Days We Had
---
Day Wave releases his debut album The Days We Had. California songwriter Jackson Phillips has completed work on his debut album, following the breakout success of his opening two EPs. Gradually honing his songwriting while retaining that impish energy, debut LP The Days We Had drops is released by Fiction. The album is full of 11 off kilter pop songs and the material was completed alongside closely trusted engineer Mark Ranken. For fans of The Field Mice and New Order.
Tracklist
1. Something Here
2. Home
3. Ordinary
4. Untitled
5. Bloom
6. On Your Side
7. Bring You Down
8. Wasting Time
9. Promises
10. Disguise
11. I'm Still Here