---
---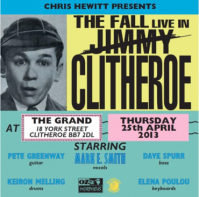 Format
---

OZITDANLP8029

Long Player

£ —

Out of stock

Limited orange 180 gram vinyl LP.

Label

---

Live in Clitheroe 2013

---

A sell out concert at Clitheroe Grand at the start of The Fall's 2013 tour including the now departed Elena Polou - yes the first date of the 2013 tour - one Fall fan said "I really cannot remember ever seeing the group (any of the various line ups of the group) look so happy, smiles all round." In typical Mark E Smith style the last 3 songs were sung from the dressing room.