---
---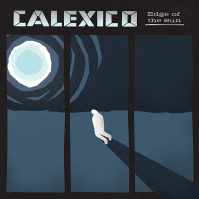 Format
---

SLANG50072DL

2 x Long Player

£18.00

X

Limited indie only coloured 2LP, Disc 1 Blue vinyl and bonus 6 track turquoise LP with etched side B. Limited to 2500 Worldwide.
Label
---
Edge Of The Sun
---
For the better part of two decades, the acclaimed band Calexico has crossed musical barriers, embracing a multitude of styles, variety in instrumentation, and well-cultivated signature sounds. With their forthcoming record Edge of the Sun, out April 13th via City Slang, they take inspiration from a trip to a place surprisingly unexplored by the band before in Mexico City, and with the benefit of many friends and comrades to help guide the way.
Encouraged by the experience, the guest list grew to include Ben Bridwell (Band of Horses), Nick Urata (Devotchka), Carla Morrison, Gaby Moreno, Amparo Sanchez, multi-instrumentalists from the Greek band Takim, and Neko Case. Burns' brother John Burns lent a hand to some lyrics and songwriting, and the band's keyboardist, Sergio Mendoza, stepped up to co-write and arrange certain songs, ultimately co-producing the album along with Burns, John Convertino, and longtime associate Craig Schumacher.
Tracklist
1. Falling From The Sky with Ben Bridwell (Band of Horses)
2. Bullets & Rocks with Sam Beam (Iron & Wine)
3. When The Angels Played with Pieta Brown & Greg Leisz
4. Tapping On The Line with Neko Case
5. Cumbia de Donde with Amparo Sanchez
6. Miles from the Sea with Gaby Moreno
7. Coyoacán
8. Beneath The City Of Dreams with Gaby Moreno
9. Woodshed Waltz with Greg Leisz
10. Moon Never Rises with Carla Morrison
11. World Undone with Takim
12. Follow The River with Nick Urata (Devotchka)

Bonus 6 Track CD/LP:
1. Calavera
2. Roll Tango
3. Rosco y Pancetta
4. Volviendo
5. Esperanza
6. Let It Slip Away