---
---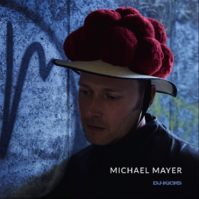 Formats
---

X

16 Track CD.

---

K7348LP

Long Player

£22.00

X

8 Track Double Vinyl.
Label
---
Michael Mayer DJKicks
---
Michael Mayer. Credited by many as one of the leading tastemakers in dance music, his DJ sets have influenced a generation (or two) of musicians and fans out there today. An artist that has never allowed time or age to slow him down – Michael Mayer remains tirelessly motivated behind the DJ decks, in the studio or behind his desk at Kompakt, the company he co-owns. Last year's full-length LP, &, was Michael's fourth, a departure that saw him extensively collaborate with an impressive host of contemporaries and friends, including Joe Goddard, Prins Thomas and Agoria. Complimenting these excursions perfectly, Michael's long overdue contribution to the legendary DJ Kicks series finds the Cologne artist in just as generous of a mood, only rooted in his ever-expanding record collection, and above all, his defining instinct to share the beauty of music with others. It features Peter Zummo, CSS, Mekon, Throbbing Gristle, Death in Vegas, Jon Hopkins, Justus Kohncke etc.