---
---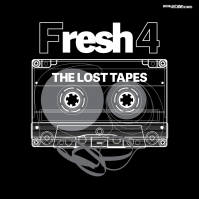 Format
---

ARC273V

Long Player

£13.00

X

Limited edition blue vinyl ONLY 100 copies.
Label
---
The Lost Tapes
---
Think of the "Bristol Sound" and the same three or four bands tend to spring to mind however, the first widely heard example of the pioneering new sound from the West Country came with a 1989 attack on the Top Ten from South Bristol in the shape of established collective Fresh 4. Co produced by fellow Bristol pioneers Smith and Mighty, "Wishing on A Star" was the first exposure many people outside of Bristol got to the unique fusion of heavy bass lines, Hip Hop beats, soulful vocals and new takes on classic songs.

Formed as a collective in the mid-eighties, Fresh 4's roots were firmly south of the river Avon with members Flynn and Krust coming from Knowle West. Suv was from Ashton and joined by fourth member Judge from Totterdown. The band stayed close to their South Bristol roots and based themselves in a warehouse on nearby St. Lukes Road. They represented the south of the City in a scene that was more often orientated somewhere north of the city centre.

Although "Wishing on a Star" cracked the Top Ten, the two follow up singles were less successful and due to disagreements with their label, a planned album never materialised and the group members went their separate ways. In the following decade Suv, Krust and Flynn would all go on to find greater success as pioneers and mainstays of Bristol's hugely successful Drum and Bass scene, writing new chapters that overshadowed their earlier success.

Who can say what might have happened if a Fresh 4 album had been released on a major label at the start of the 1990s, perhaps they would now be discussed alongside Massive Attack and Portishead or maybe Bristol's Drum and Bass scene would have felt the loss and not been as successful as it was. We can't give you that lost album, but we have tracked down some long forgotten demo tapes and twenty five years later, assembled them into an album. It's not THE Fresh 4 LP, but it is filling in a gap in their story and the story of Bristol music, therefore at Bristol Archive Records we thought the music deserved a wider audience.

The seven tracks plus an alternative edit, lead off in a familiar style with "Take Control", the closest match to the "Wishing on a Star" blueprint recorded at Fresh 4 and Smith & Mighty's studio and also featuring that song's vocalist Liz E. The rest of side A sees some early authentic British Hip Hop with that unique Bristol twist, whilst side B, aims for a then contemporary dance sound.

These tracks are definitely works in progress rather than polished finished tracks, they show the band working on a variety of musical ideas and exploring various directions. The sound is rough, these tracks were never expected to be shared at such an early stage yet they give us an insight into the thought process of the group. They were pioneers, not confined by rigid rules; they could try anything and often did. These are musical sketches, a peak behind the scenes that listeners rarely get and also a reminder, that Fresh 4 have more to their claim of a place in Bristol's musical history than those three singles.
Tracklist
1. Take Control
2. Taste of Spice
3. To Be Loved By Jah
4. One Step Further
5. Children of the Ghetto
6. Lessons
7. Asian Dawn
8. Asian Dawn (Edit)