---
---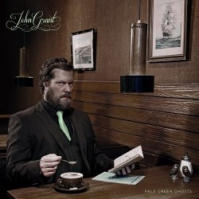 Formats
---

X

CD+

---

BELLAV377

2 x Long Player

£18.00

X

Double Vinyl
Label
---
Pale Green Ghosts
---
After a breakthrough year that saw his exceptional solo debut "Queen Of Denmark" win MOJO's Album of 2010 and countless other accolades, John Grant hasn't rested on his laurels but created a follow-up that underlines his uncanny and charismatic talents.
Recorded in Iceland and featuring Sinead O'Connor on guest vocals, the brilliant "Pale Green Ghosts" adds sublime notes of dark, gleaming electronica to the anticipated velveteen ballads, calling on all of Grant's influences and tastes, presenting an artist at the peak of his powers…
Limited Edition Deluxe version comes with an extra disc of bonus tracks.
Vinyl comes with CD version of the album enclosed.
Tracklist
1. Pale Green Ghosts
2. Black Belt
3. GMF
4. Vietnam
5. It Doesn't Matter To Him
6. Why Don't You Love Me Anymore
7. You Don't Have To
8. Sensitive New Age Guy
9. Ernest Borgnine
10. I Hate This Town
11. Glacier

Deluxe Version Bonus Disc

1. Black Belt (Hercules And Love Affair Remix)
2. Black Belt (Gluteus Maximus Vocal Remix)
3. Pale Green Ghosts (NIVOLT Remix)
4. Pale Green Ghosts (NO CEREMONY /// Remix)
5. Why Don't You Love Me (NIVOLT Remix)
6. Why Don't You Love Me (Bon Homme Remix)