---
---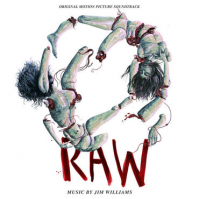 Formats
---

---

X

Double 180 Gram Green Vinyl.
Label
---
Raw - Original Motion Picture Soundtrack
---
Death Waltz Recording Co presents the soundtrack to Raw. You may have heard Williams' work in Field In England and Sightseers but Raw certainly see him breakthrough to a wider audience with a score that will easily sit high inside many top ten lists come the end of 2017. Williams mixes mellow acoustic tracks filled with violin and piano that are serene and beautiful with huge baroque organ led tracks that are intense and powerful.
Tracklist
1. Introduction
2. Alexia Crash
3. Child Music 1: Coming of Age
4. Specimen Jars in the Dark
5. Child Music 2: Wonderment
6. Cheval
7. Growing Pains
8. Bus Crash
9. Child Music 3: Waltz
10. Cheveux
11. Child Music 4: Dark Reflection
12. Waxing and Waning
13. Finger Scene
14. Road Rage
15. Child Music 5: Innocence
16. Lust
17. Sheet Frenzy
18. Lost
19. Child Music 6: Reflections on Infancy
20. Love Lust
21. Blood Lust
22. Wild Love
23. Necromancy
24. Fight or Flight
25. Sisters
26. Finale
27. Raw Main Title Theme
28. End Credits: Finale Repris.e