---
---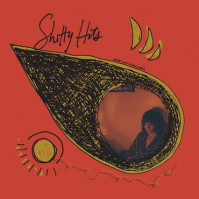 Formats
---

FTH288CD

CD

£12.00

Expected 28th July 2017

---

FTH288LP

Long Player

£18.00

Expected 28th July 2017

X

Orange LP limited to 500 with Download.
Label
---
Shitty Hits
---
On her debut album, Von Schleicher strikes again on the magic that comes from her warped and uncompromising sound. Shitty Hits odes to the bright, sunny radio burners of the 1970's, songs you drive to, carefree, and songs you can cry to. From beginning to end, Shitty Hits rises against a feeling of isolation and powerlessness. Opener The Image (named for Boorstein's The Image: A Guide to Pseudo-events in America) hits on fear and a lack of perspective: "The image runs and runs together / I'm glancing at it on a screen / I can't tell you how I feel / It runs and runs together / I'm standing beneath it." Evoking the home recorded sound of McCartney or Jeff Buckley's Sketches For My Sweetheart The Drunk, Shitty Hits began on a Tascam 488 tape machine in her childhood home in Maryland. Where Bleaksploitation courted some kind of sonic nihilism, Shitty Hits shows confidence and growth. It ends in unflinching self-realization, as Von Schleicher sings "Where is everything I hold to be true? / When you feel like you're a door they're knocking on / Or worse, that no one passes through / Do I hold my life? / No one's gonna sell it back / Over my head." Words form the questions, answers are given in sound.
Tracklist
1. The Image
2. Midsummer
3. Paranoia
4. Soon
5. Nothing
6. Mary
7. Life's a Lie
8. Isolator
9. Hold
10. Going Down
11. Sell It Back