---
---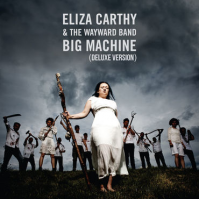 Formats
---

---

X

Limited Hardback Book Edition comes with an 8-Track Bonus CD within a Deluxe 40+ Page booklet.

---

VIN180LP119

Long Player

£25.00

X

Pressed on two 180g vinyl discs with a heavyweight gatefold sleeve and full colour inner bags.
Label
---
Big Machine
---
Pioneering English traditional folk powerhouse, Eliza Carthy, first assembled the Wayward Band in 2013 in order to explore and celebrate her long and varied career in folk music; 'the last truly underground music scene'. Since then, the band has become a festival favourite, and Eliza has been awarded the MBE for services to folk music. Eliza and the Wayward Band loved playing together so much it seemed natural and inevitable, as well as characteristically ambitious, that this 12-piece would set about recording an album. Early in 2016 they did just that. 'Big Machine' is the result and the renowned Real World and Rockfield Studios are where it all happened. 'Big Machine',is produced by Jim Sutherland. The material represents a healthy slice of everything good that is happening in traditional music now, across a sparkling spectrum of sound. The album features three contemporary songs; Eliza's own 'You Know Me' about the migrant crisis and notions of hospitality (featuring MC Dizraeli), a powerful cover of Ewan Maccoll's Radio Ballad 'The Fitter's Song' (at the behest of Peggy Seeger - and the song which inspired the album title) and an affectionate reworking of 'Hug You Like a Mountain' (Rory MacLeod), re-imagined here as a duet with Teddy Thompson.
Tracklist
1Fade & Fall (Love Not)
2Devil in the Woman
3The Fitter's Song
4Jack Warrell's (Excerpt) / Love Lane
5Hug You Like a Mountain
6You Know Me
7Great Grey Back
8Mrs. Dyer the Baby Farmer
9I Wish That the Wars Were All Over
10The Sea
11Epitaph