---
---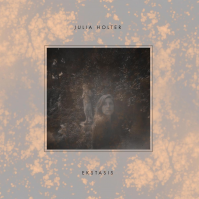 Formats
---

---

WIGLP297

Long Player

£20.00

X

Double Vinyl
Label
---
Ekstasis
---
On Julia Holter's previous record, Tragedy, she had a song called Try to Make Yourself a Work of Art. Even written down that's an interesting enough mantra, and one that Holter takes to the next level on Ekstasis – a piece of art so alive it feels like it could very well be sentient.
The droning psychedelia of Our Sorrows is a good example. Holter bursts into a gorgeous chorus – "If you call out, call out call out I will follow" – almost immediately, pitching the song in more of a 'pop' territory than ever before. But this conventional start soon unravels: background chatter and a solitary synth make for particularly ghostly spectres as Holter drags the song further and further away from its genesis point.
These wormholes that Holter throws her songs through make them feel like a steady stream of barely trapped thoughts. That's not to say this is an inaccessible record though; instead, the reflexive leaps that Holter makes allow the world of Ekstasis to exist as a terrifically rewarding and immersive listen.
Holter balances her mostly zoned-out atmospheres with a couple of moments of ecstatic release. The biggest of these is In the Same Room – the most conventional and striking moment on the album. For the first three minutes the song unfurls just like a pop song. Electronic beats push a steady momentum while Holter playfully darts around two of the record's strongest hooks. Small details gather and drive towards a climax that doesn't quite happen – rather, the song ebbs and slips dreamily back into the pretty soundscapes that characterise the rest of Ekstasis.
Boy in the Moon strikes an even prettier pose. Melancholy guitar delays bounce around while Holter sings in snippets – not too far off Trish Keenan or Nico. With no obvious rhythm to pin things down the song feels gaseous and spectral – then, later in the piece, when Holter languidly sings "This plane is taking off" synths zoom upwards in pitch and you get the feeling that the song just might just leave the ground. Indeed, Ekstasis' most alluring and unique quality is that you don't quite know where it might turn next. In a musical landscape stuffed with closely defined micro-genres and a tendency to look backwards for inspiration it's both refreshing and exciting to hear an artist so vividly committed to exploring new frontiers in such a rewarding way.
Tracklist
Genre : Alternative, Classical, Experimental. Julia Holter s Tragedy album was included in several 2011 year end lists, including NPR, WIRE, FACT, and Boomkat s #1 album of the year. Touring Europe in May & June. Ekstasis press coverage confirmed for NPR, Pitchfork, The Fader, Mojo, Uncut, FACT, Resident Advisor, Dazed & Confused, WIRE, Spex (Germany), Tsugi, etc. In the Same Room named Pitchfork Best New Music. Ekstasis was mixed by Cole M. Greif-Neill, formerly of Ariel Pink s Haunted Graffiti. Presently a member of Nite Jewel and The Samps. Julia Holter s second album, Ekstasis, is a collection of songs written and recorded across the span of three years in Los Angeles, California. Ekstasis marks a return to the playful searching of her 2007 Eating the Stars EP, but guided by newly-learned disciplines, slightly better technology, and nearly limitless home recording time. Holter s songwriting stems from a mythological reverence of that which is incomprehensibly beautiful. Stars was a first attempt at musically transcribing this beauty, while discovering the honest enjoyment of unadulterated creativity. Holter s critically acclaimed debut album Tragedy (Leaving Records, 2011) embraced Stars strains of shimmer, but used sparser textures in a narrative context. While Ekstasis reflects the conventions of her classical training, the album is also uncannily, if unknowingly, poppy. Holter s approach to crafting the songs of Ekstasis centered around what she describes as, open ear decisions: what seemed to sound best for that moment. This blindness to reference unintentionally steers Ekstasis along the experimental pop spectrum most commonly associated to New York s Downtown music micro-universe of the 80s, specifically the works of Laurie Anderson and Arthur Russell. With the blindness that leads Ekstasis, there are also many compositional methods at play. Marienbad was built while playing around on a Fender Rhodes with imagined imagery of topiary gardens and scenes from the song s film namesake in mind. The entirety of Boy in the Moon - the Casio SK-1 noodles, melody, and lyrics was improvised over a seven minute catharsis. The melody and lyrics for Four Gardens were written spontaneously while rearranging an older song on a loop pedal for a live performance. This is Ekstasis contains a bass line built from a medieval isorhythm technique, allowing it to maintain a sense of repetition, but shift slightly with every turn.