---
---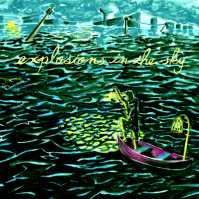 Format
---

TRR99LP

Long Player

£20.00

X

Double Vinyl
Label
---
All of a Sudden I Miss Everyone
---
So this is "All of a Sudden I Miss Everyone" by Explosions in the Sky, their fifth studio album. The album is named in reference to "Catcher in the Rye". Once again, Explosions in the Sky are an instrumental rock band, so no vocals will be heard.
It kicks off with "The Birth and Death of the Day", it starts of quietly, then some distortion enters and echoes out, and then a loud crash, and the song picks up. The song starts off with a feeling of awakening, namely with the lead guitars rapid picking of high notes, and the ascending chords that ring out in accompaniment. The song progresses into a quieter, yet solid middle, and then builds, a lot, at the 5 minute mark, culminating in a melodic release 40 seconds later, which lasts 'til almost the end of the song. In the end, it's a very haunting line that leads into the next track.
"What Do You Go Home To" is a haunting track. It's highly simple, it uses a lot of simple ideas, and a lot of recursion to great success. The piano used in the song adds great feel and depth. The song is paced well, as you feel a bit lost, and the song lets your mind wander through the majority of the song. The song slows down at the end, a sort of feeling of that you're home, and you feel relief, but you also feel a bit of questioning everything too.
"All of a Sudden I Miss Everyone" is a highly interesting, seemingly short album, as it's only 6 songs, but it clocks well over 40 minutes. There is a lot of texture and feel in this album, and a lot to keep your interested with the variance of instrumentation, phrasing and build up of tension and release. It is a very satisfying listen, and it works as a full album, though you can easily listen to individual songs and feel just as satisfied.