---
---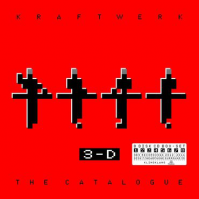 Formats
---

X

Bluray and DVD Set

---

0190295924942

Long Player

£32.00

X

77 mins (abridged) version of full-length release containing music from all 8 albums on double heavyweight vinyl and download card.

---

0190295923518

Long Player

£ —

Out of stock

12" x 12" rigid board slipcase, housing 8 albums across 9 pieces of heavyweight vinyl and a download card. The Mix is double vinyl.

Label

---

3D The Catalogue

---

3-D The Catalogue (Autobahn / Radioactivity / Trans Europe Express/ The Man-Machine / Computer World / Techno Pop/ The Mix and Tour De France) is the ground-breaking 3-D Kraftwerk Concert brought thrillingly to life, developed using high definition 3-D visuals, with Dolby Atmos surround sound and presented to the technological and audio standards one would associate and indeed come to expect from the pioneering Germans led by founder Ralf Hutter. For the very first time, every Kraftwerk fan can now experience a "Gesamtkunstwerk – a total work of art" in the comfort of their own home.