---
---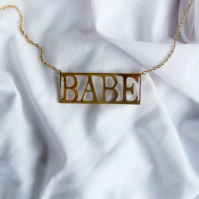 Formats
---

BABE1CD

CD

£ —

Out of stock

---

BABE1LP

Long Player

£ —

Out of stock

Label

---

Kiss and Tell

---

Babe, Glasgow's premier secret party band, are back after a two year absence with new album Kiss & Tell, the follow-up to the excellent and unclassifiable 2014 debut Volery Flighty (Moshi Moshi)

The band, made up of singer-leader Gerard Black (Findo Gask), guitarist Thomas Ogden, bassist Amaury Ranger (Francois and the Atlas Mountains) and new drummer/producer John Baillie Jnr (Bossy Love) have regrouped and refocused to deliver a record as much for the quiet hours as it is for the house party.

Kiss & Tell is an album which finds Babe striding confidently, if not swaggering, towards the dancefloor. You can hear disco music, house and techno, dream-pop and so much more on album number two, but it remains utterly cohesive. No longer uncategorized, Kiss & Tell is the only sad-disco album you'll need in 2017.

"I used to be obsessed with Italo disco and all sorts of electronic dance music," says Black, the owner of a heartbreaking falsetto which mellows the kick and thump of synth beats, and the sparkling array of Cocteau Twins-esque guitars on the album. "We definitely wanted this one to be a bit more upbeat and a bit of a party."