---
---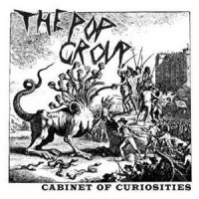 Format
Label
---
Cabinet of Curiosities (Reissue)
---
The Pop Group, one of the most wildly innovative and barrier-shattering bands to emerge from the late '70s post-punk era, are finally seeing their rare and fabled legacy reissued for the first time!
Cabinet Of Curiosities is a brand new, nine-track compilation which kicks off with the fractured future-funk single 'Where There's A Will', described by Sager [guitarist] as "The group's best attempt to mix a message with a groove plus some real free playing. If you are really unhinged you may be able to dance to this."
Next up is the unheard, original previously unreleased version of 'She Is Beyond Good And Evil', probably the band's most infamous song and more recently covered by St Vincent on the Jimmy Fallon show and throughout her Strange Mercy tour.
Cabinet Of Curiosities continues with BBC John Peel session tracks 'We Are Time' and 'Words Disobey Me', and rounds up previously unreleased songs 'Abstract Heart' and 'Karen's Car', plus other alternative versions. Mark Stewart describes Cabinet Of Curiosities as being of similar status to a lost Pop Group album.
The release will also be available as part of a limited CD box set (The Pop Group 'Curiosities') accompanied
by memorabilia and an extensive 36pp booklet.
Tracklist
1. Where There's A Will (remastered Single)
2. She Is Beyond Good And Evil (original
version, previously unreleased)
3. Colour Blind (Live)
4. Words Disobey Me (John Peel session)
5. Don't Sell Your Dreams (Live)
6. We Are Time (John Peel session)
7. Abstract Heart (previously unreleased song)
8. Amnesty Report III (previously
unreleased mix)
9. Karen's Car (previously unreleased
song)