---
---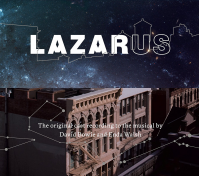 Format
---

88985374551

Long Player

£32.00

X

Triple Vinyl in Triple Jacket.
Label
---
The Original Cast recording to t
---
Lazarus, the original cast recording of the show, created by David Bowie and Enda Walsh and & is inspired by the novel, The Man Who Fell To Earth. The sold-out production of Lazarus, starring Michael C. Hall, ran off-Broadway and received incredible reviews. Standing alongside the cast's interpretations of classics from his canon are the three final David Bowie studio recordings, co-produced by Bowie and Tony Visconti and recorded with Donny McCaslin and his quartet, the same band that played on Bowie's ★ album, these last three songs — "No Plan," "Killing A Little Time," "When I Met You"— bring completely new dimensions to their cast counterparts. The original ★ version of "Lazarus" is also included on the cast album.
Tracklist
1Hello Mary Lou (Goodbye Heart)by Ricky Nelson
2Lazarusby Michael C. Hall and Original New York Cast of Lazarus
3It's No Gameby Michael C. Hall, Lynn Craig, and Original New York Cast of Lazarus
4This Is Not Americaby Sophia Anne Caruso and Original New York Cast of Lazarus
5The Man Who Sold the Worldby Charlie Pollack
6No Planby Sophia Anne Caruso
7Love Is Lostby Michael Esper and Original New York Cast of Lazarus
8Changesby Cristin Milioti and Original New York Cast of Lazarus
9Where Are We Now?by Michael C. Hall and Original New York Cast of Lazarus
10Absolute Beginnersby Michael C. Hall, Cristin Milioti, Michael Esper, Sophia Anne Caruso, Krystina Alabado, and Original New York Cast of Lazarus
11Dirty Boysby Michael Esper
12Killing a Little Time [Explicit]by Michael C. Hall
13Life On Mars?by Sophia Anne Caruso
14All the Young Dudesby Nicholas Christopher, Lynn Craig, Michael Esper, Sophia Anne Caruso, and Original New York Cast of Lazarus
15Sound And Visionby David Bowie
16Always Crashing In The Same Carby Cristin Milioti
17Valentine's Dayby Michael Esper and Original New York Cast of Lazarus
18When I Met Youby Michael C. Hall and Krystina Alabado
19Heroesby Michael C. Hall, Sophia Anne Caruso, and Original New York Cast of Lazarus
20Lazarusby David Bowie
21No Planby David Bowie
22Killing a Little Timeby David Bowie
23When I Met Youby David Bowie