---
---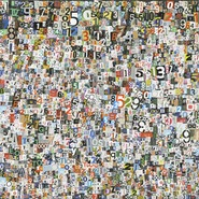 Format
---

SOU023LP

Long Player

£15.00
Label
---
Intro To Fractions
---
Lambert, bassist/co-vocalist Titus Brown and everybody's soon-to-be fave new drummer Jim Crook moved to Atlanta in neighbouring Georgia in 2004, attracted by the bohemian state capital's liberal atmosphere (It's the New York of the South) and a fertile music scene that has spawned the likes of Deerhunter and Black Lips.
All the Saints came into existence a year later, their moniker inspired partly by an old Verbena song and partly by an outsized fleur-de-lys saints symbol which a tramp had spraypainted gold and sold to the nascent combo at one of their early gigs. "It's kind of a tongue-in-cheek fuck you," laughs Lambert, he and Brown having been raised as strict Christians. "We in the very, very heart of the Bible Belt but there's nothing 'all the saints' about our music!"
Lambert, a committed Anglophile, was turned on to My Bloody Valentine, Ride and the Jesus and Mary Chain by an indie radio station his elder sister used to tape in the early '90s - these influences are clear in the band's dark and distinctly English-flavoured shoegaze aesthetic.
Tracklist
01Half Red, Half Way
02Poly Daughters
03Alteration
044H Trip
05Host
06EIO
07Preachy
08Dangerflowers
09Intro To Fractions
10Sunk Hill
11Now Boy
12Buster
13Zompires