---
---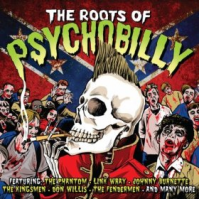 Format
---

NOT2LP152

Long Player

£15.00

X

Double Vinyl
Label
---
The Roots Of Psychobilly
---
2-LP set packed with rockin' tracks which influenced the birth of Psychobilly.
Here is a wealth of fantastic music from the wilder side of Rock 'n' Roll - these are the songs that have been covered by or influenced Psychobilly bands in recent years.
An incredible 32 track selection featuring wild rockin' classics from The Phantom, Link Wray, Dick Dale, Jackie Morningstar, Dwight Pullens, The Ramrods, Kip Tyler, The Riptides, Jett Powers, Bill Allen, Dale Hawkins, The Frantics, Johnny Burnette, The Rhythm Rockers, Mickey Hawks, Ronnie Dawson, Gene Summers, Carl Perkins, Screamin' Jay Hawkins, Ray Harris, Junior Thompson and many others.
Tracklist
LP 1 Side 1
1. Love Me- The Phantom (1:33)
2. Rumble- Link Wray & His Raymen (2:17)
3. Switchblade- Ron Thompson (1:57)
4. Rockin' In The Graveyard- Jackie Morningstar (2:42)
5. Storm Warning- Mac Rebennack (3:18)
6. Strollin' After Dark- The Shades (2:09)
7. Stampede- The Scarlets (1:58)
8. Machine Gun- The Riptides (2:10)

LP 1 Side 2
1. Werewolf- The Frantics (2:02)
2. Moon Dawg- The Gamblers (2:15)
3. Nameless- The Rockin' R's (1:40)
4. The Train Kept A Rollin'- Johnny Burnette (2:16)
5. Ghost Riders In The Sky- The Ramrods (2:36)
6. Bip Bop Boom- Mickey Hawks & The Night Raiders
(1:39)
7. Jungle Fever- The Playboys (1:12)
8. Jessie Pearl- Dick Dale (2:14)

LP 2 Side 1
1. Rock Billy Boogie- Johnny Burnette (2:36)
2. Madness- The Rhythm Rockers (2:37)
3. Trapped Love- Keith Courvale (2:01)
4. Have Guitar, Will Travel- The Scotty Moore
Trio (2:01)
5. Comanche- Link Wray & His Raymen (2:41)
6. Come On Little Mama- Ray Harris (2:19)
7. Boppin' High School Baby- Don Willis (2:31)
8. Mule Skinner Blues- The Fendermen (2:25)

LP 2 Side 2
1. I Put A Spell On You- Screamin' Jay
Hawkins (2:26)
2. Rawhide- Link Wray & His Ray Men (2:14)
3. Weekend- The Kingsmen (2:22)
4. Rockin' Bones- Ronnie Dawson (1:57)
5. School Of Rock N' Roll- Gene Summers And
His Rebels (2:06)
6. Warrior Sam- Don Willis (2:40)
7. Let's Have A Ball- Jim McDonald (2:02)
8. Unitar Rock- Willie Joe And His Unitar