---
---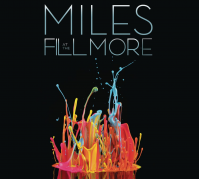 Format
---

88765433812

4 x CD Box Set

£20.00
Label
---
Miles At The Fillmore: Miles Davis 1970: The Bootleg Series Vol. 3
---
MILES DAVIS live throughout 1970, as he was single-handedly bringing jazz into the commercial rock era! 4 audio discs of primarily unreleased music with complete performances including 2+ HOURS of extended material and the ultimate rarities. An eye-and-ear opening set curated by Carlos Santana, full of fascinating firsthand accounts and profound insight into a seismic shift in American society, music, and culture:
"If ever there was a time when a rock audience would be willing to open their ears and hear some great modern jazz like Miles was doing, it was at the Fillmore. Bill Graham created that environment consciously and honestly and brutally, and got a new generation to hear the beauty in this music. That was the deal: if you want to hear Steve Miller or Neil Young or Santana, you've got to hear Miles Davis. … The sound of Miles at the Fillmore is like a microscope on everything that happened before in jazz and everything that was happening then with all the protesting, the shootings, the beatings, the Black Panthers." Carlos Santana
August 1969 to August 1970 was the most productive year of Miles Davis's career: in that short span of time, the trumpeter recorded enough material for his studio double-album Bitches Brew, a studio single album Jack Johnson, three sides of another studio double-album Big Fun, four tracks from the double-album Live-Evil AND, across five nights at Bill Graham's famed Fillmore rock palaces in April and June of 1970, coast-to-coast at both the Fillmore East & West—the complete, legendary concerts that will now see the light of day and be made available to fans in their entirety!
MILES AT THE FILLMORE – Miles Davis 1970: The Bootleg Series Vol. 3.
The searing white heat of these concerts, originally issued in severely edited form to accommodate LP sides, and without any track or song indications are now made whole. The additional 135 minutes of music in this set include a range spanning Wayne Shorter's 'Paraphernalia' and 'Footprints' from the earlier acoustic repertoire; to an early version of 'Miles Runs The Voodoo Down' plus a rare encore performance of 'Spanish Key'. This unprecedented collection tells a story through its electrifying music, images, and cultural impact.
Tracklist
Disc One:
Fillmore East, June 17, 1970
1. Introduction by Bill Graham
2. Directions (Joe Zawinul)
3. The Mask (Miles Davis)
4. It's About That Time (Miles Davis)
5. Bitches Brew (Miles Davis)
6. The Theme (Miles Davis)
BONUS TRACKS:
Fillmore West, April 11, 1970
6. Paraphernalia (Wayne Shorter)
7. Footprints (Wayne Shorter)

Disc Two:
Fillmore East, June 18, 1970
1. Directions (Joe Zawinul)
2. The Mask (Miles Davis)
3. It's About That Time (Miles Davis)
4. Bitches Brew (Miles Davis)
5. The Theme (Miles Davis)
6. Spanish Key (Encore) (Miles Davis)
7. The Theme (Miles Davis)

Disc Three:
Fillmore East, June 19, 1970
1. Directions (Joe Zawinul)
2. The Mask (Miles Davis)
3. It's About That Time (Miles Davis)
4. I Fall In Love Too Easily (Sammy Cahn-Jule Styne)
5. Sanctuary (Wayne Shorter)
6. Bitches Brew (Miles Davis)
5. The Theme (Miles Davis)
BONUS TRACK:
Fillmore West, April 11 1970:
8. Miles Runs the Voodoo Down

Disc Four:
Fillmore East, June 20, 1970
1. Directions (Joe Zawinul)
2. The Mask (Miles Davis)
3. It's About That Time (Miles Davis)
4. I Fall In Love Too Easily (Sammy Cahn-Jule Styne)
5. Sanctuary (Wayne Shorter)
6. Bitches Brew (Miles Davis)
7. Willie Nelson (Miles Davis)
8. The Theme (Miles Davis)