---
---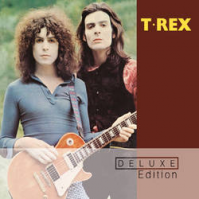 Format
---

5347315

2 x Long Player

£22.00
Label
---
T. Rex
---
Following on from the critical and commercial success of 2012's 40th anniversary edition of "Electric Warrior' and 2013's 'Marc Bolan At The BBC' box set, comes this staggering new edition of 'T.Rex' - the first album Bolan released under his new T.Rex incarnation. Available as a new 2CD Deluxe Edition complete with new sleeve notes from Mark Paytress, 'T.Rex', along with its follow-up 'A Beard Of Stars' captures the fascinating transitional moment between Marc's star child and boppin' elf periods. On Disc One, the original album, comprehensively remastered contains many Bolan aficionados favourites including 'Jewel', 'One Inch Rock' and 'The Children Of Rarn' plus Marc's first bona fide smash hit, 'Ride A White Swan'. Disc Two features 18 songs including 3 Previously Unreleased Home Demos and 14 Previously Unreleased Alternate Takes from the original recording sessions at Trident Studios between June and August 1970. Also included is the audio from the band's first Top of the Pops appearance with 'Ride A White Swan' on November 10th 1970 which, while the video has been lost for many years, we have managed to track down an off-air recording which is something of a 'Holy Grail' for Marc Bolan fanatics.
40 Track Double CD set.
29 Track Double LP Set.
Tracklist
Disc: 1
1. The Children Of Rarn ( 0:53 )
2. Jewel ( 2:46 )
3. The Visit ( 1:55 )
4. Childe ( 1:36 )
5. The Time Of Love Is Now ( 2:42 )
6. Diamond Meadows ( 1:58 )
7. Root Of Star ( 2:31 )
8. Beltane Walk ( 2:26 )

Disc: 2
1. Is It Love ? ( 2:34 )
2. One Inch Rock ( 2:26 )
3. Summer Deep ( 1:43 )
4. Seagull Woman ( 2:18 )
5. Suneye ( 2:06)
6. The Wizard ( 8:50 )
7. The Children Of Rarn ( 0:36 )

Disc: 3
1. The Children Of Rarn - Take 6 ( 1:01)
2. Jewel - Alternate Take ( 3:35 )
3. The Visit - Alternate Take ( 1:44 )
4. The Time Of Love Is Now - Alternate Take ( 2:45 )
5. Diamond Meadows - Alternate Take ( 2:09 )
6. Beltane Walk - Alternate Take ( 2:23 )
7. Summertime Blues - B - Side ( 2:42 )

Disc: 4
1. One Inch Rock - Alternate Take ( 2:33 )
2. Summer Deep - Alternate Take ( 1:47 )
3. Seagull Woman - Alternate Take ( 2:23 )
4. Suneye -BBC Top Gear Performance 26/10/1970 ( 2:00 )
5. Deep Summer - Alternate Take ( 4:42 )
6. Dark Lipped Woman ( 1:29 )
7. Is It Love ? - Alternate Take ( 2:39 )