---
---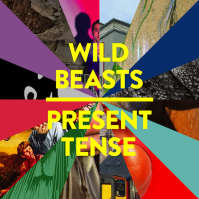 Format
Label
---
Present Tense
---
*** Order WIGLP279X for the indie exclusive LP version w/ bonus 12''***
*** All formats come with Wild Beasts postcard pack whilst stocks last! ***
Present Tense is a dramatically new album – taking cues from the most intense and effervescent of 1980s and 1990s electronic sound but rethinking and retooling these elements with exquisite detail for the 21st century.
Longer in creation than any of its predecessors, Hayden Thorpe, Tom Fleming, Chris Talbot and Ben Little took almost a full year away from touring to conceive and construct the eleven tracks of Present Tense. Written in London and recorded at Konk Studios in London and at The Distillery in Bath, the band worked in close collaboration with co-producers Lexxx and Brian Eno protégé Leo Abrahams to create a record of astounding intricacy, coherence and emotional resonance.
Alongside its breathtaking leap in production, Present Tense also finds the band at the peak of their considerable songwriting powers – each one of the album's eleven tracks illuminating the precious, tender, sad and funny moments of modern life in their trademark plain-spoken poetics.
Already rightly considered to be one of contemporary Britain's most innovative and vital bands, Present Tense sees the group's ever-restless collective muse lead them to remarkable new heights - boldly embracing new production techniques and songwriting forms whilst retaining the thrilling idiosyncrasies that have made them so beloved over the course of three beguiling and beautiful albums to date.
Tracklist
01. Wanderlust
02. Nature Boy
03. Mecca
04. Sweet Spot
05. Daughters
06. Pregnant Pause
07. A Simple Beautiful Truth
08. A Dog's Life
09. Past Perfect
10. New Life
11. Palace