---
---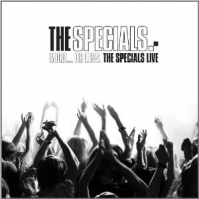 Format
---

6210141

Long Player

£20.00
Label
---
More Or Less. The Specials Live
---
The 'best of the best' tracks taken from the Specials 2011 European tour dates.
Starting off in Amsterdam and doing a kind of clockwise trek around Europe, including, Berlin, Munich, Milan, Cologne, Hamburg, Paris and finishing in Brussells. Moving onto the UK including Manchester, Glasgow, Nottingham, Cardiff, Coventry, London and more. The band moved from sell out show to sell out show.
It's a live set of exceptional quality, and was recorded at different venues in Europe and the UK during the 2011 tour. The band have selected the best of all the live recordings. It's a set in which the audience play a crucial role, cheering the band on and singing on many tracks, but always adding to the excitement rather than proving a distraction. And the songs about race, unemployment, or the importance of have a great time, still sound as rousing, thoughtful and relevant as ever.
Tracklist
CD 1:
1. A Message To You Rudy
2. Do The Dog
3. It's Up To You
4. Nite Klub
5. Doesn't Make It Alright
6. Concrete Jungle
7. Too Hot
8. Monkey Man
9. (Dawning Of A) New Era
10. Blank Expression
11. Stupid Marriage
12. Too Much Too Young
13. Little Bitch
14. You're Wondering Now

CD 2:
1. Enjoy Yourself (It's Later Than You Think)
2. Rat Race
3. Man At C&A
4. Hey Little Rich Girl
5. Do Nothing
6. Pearl's Cafe
7. Stereotype
8. Ghost Town
9. Friday Night, Saturday Morning
10. International Jet Set
11. Gangsters
12. Guns Of Navarone