---
---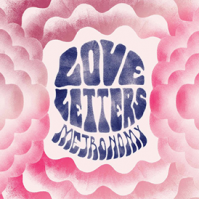 Formats
---

---

BEC5161817

Long Player

£15.00
Label
---
Love Letters
---
Down a quiet driveway in East London is an old-fashioned studio. It's the home of analogue sound, of warm, dusty machines, where the ambitions of independent-minded artists get turned into classic recordings.
In short, it's where that magic happens.
Arguably a go to studio for rock'n'roll musicians, there is one genre that Toe Rag Studios are certainly not known for, yet. One man plans to change that. It's ambitious, adventurous modern pop's turn.
Over the past six months, a man with curly hair has been regularly checking into Toe Rag studios in order to finish his anticipated fourth album. He has brought with him with a passion for The Zombies, an affection for Love, and a ridiculous enthusiasm for Sly and the Family Stone. He is already known for writing great songs, crafting his lyrics with care, and pushing pop melodies into fabulous shapes. Synthesisers and computers have been his primary tools in the past; at Toe Rag, he felt he could he push them to more heavenly places.
Joseph Mount, from Totnes in Devon, is the lead singer and architect of Metronomy. His new album, Love Letters, has a title that speaks volumes about sensations and modes of communication, about things that have always been there, and will always be here.
It's no coincidence either. This is a record that wants to be timeless.
In its execution, Love Letters tries to do fresh things in an old-fashioned way. It takes richer methods of recording and injects them with the shock of the new – of tight electronics, and experiments in sound. It does so not to be retro, but to embrace the quality standards of the past. It also aims to be up there with the greats, reaching for those old stars.
It helps, of course, that Metronomy have had an incredible few years. 2011's The English Riviera took a West Coast sunshine spirit to Britain's south-west, and gained many plaudits, including a Mercury nomination. The English Riviera was called "visionary" (NME), "exotic" (Mojo) and "stylish" (The Times); the Evening Standard called the record "a revelation"; i-D even called his band "pioneers". They also sold out the Royal Albert Hall, toured Europe and North America extensively - many bands would wallow in those glories, but not them.
Mount never wanted to rest on his laurels as a writer, either. Instead, he wanted a new challenge, and to learn discipline. It helped that something was coming along to focus him naturally – the birth of his first child. For him, the pram in the hall wasn't the enemy of art. It was his enabler.
As Mount knuckled down to work, the idea of using Toe Rag kicked in. Instead of constructing his music on computers, he would use classic, slower techniques that would force him to take time in the best possible sense. By recording onto tape, he would also be forced to think about his music more purely, construct it with more finesse, and enjoy exploring its possibilities.
The owner of the studio thought Mount would hate it, he laughs. At Toe Rag, he had the time of his life.
As a result, Metronomy's new songs are bold and ambitious, but the sweet spirit they've always been known for still lingers within them. Melancholy still lurks in those hooks; loneliness still gleams along their edges. These are songs that carry you up and down in tides of feeling, in waves of pure sound.
They also inject modern situations with timeless sentiments. The Upsetter is about having no reception when you want to send a message to someone special, for instance, and about the memory of listening to music when you were young. Monstrous is about holding on tight to everything you love, in a world you don't understand ("honestly", Mount sings, "it's all I'm thinking of"). Reservoir is about a place near where Mount's parents live, where glittering keyboards mimic "heartbeats drifting together". Month Of Sundays shimmers its emotions through bright, shining guitars. Too. All show the warmth, richness and depth being added to the Metronomy sound.
New musical spirits inhabit this album, too. I'm Aquarius was inspired by Diana Ross and The Supremes' 1969 album, Let The Sunshine In, full of psychedelic atmospheres, and gorgeous backing vocal shoop-shoops. Mount nearly left the song behind because he thought it didn't sound like him, before he realised his style was naturally growing and changing.
This was also the time to start having new adventures, he quickly realised. Boy Racers came next, the spoken-word song he'd always wanted to write (but then ditched the spoken word part because 'it didn't sound very good'). Then came Call Me, driven by glittering organ lines, and the exhilarating title track, with a four-to-the-floor beat, skipping between Motown and Northern Soul.
These songs go places Metronomy never have before, and they do so spectacularly. All on a record where old friends take our hands, and lead us somewhere new.
It's 2014. It's time to rewrite the old story.
Down a quiet driveway in East London is an old-fashioned studio. It's the home of analogue sound, of warm, dusty machines, where the ambitions of independent artists get turned into classic recordings. It's also where Metronomy made Love Letters, that classic electronic pop album, which is still sending its message straight to your heart.
Open yours. Feel the magic happen.