---
---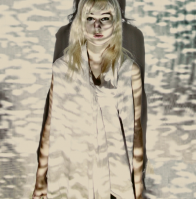 Format
Days Grow Older / Seekir
---
The sun has gone away, the rain has come out to play & the Summer holiday is further away than any time of the year. What have we got to look forward to??? Well, Black Friday (mini Record Store Day) is on 25th November & the copious amount of gigs & great new albums will keep us going. I've never been a big fan of the sun anyway. So to keep you company through October we have the new album from Zola Jesus along with an exclusive track on 7'' & a Souterrain Transmissions sampler. Souterrain have been one of my favourite new labels over the last year or so — they have already built up an impressive back catalogue — Ganglians, Moon Duo, E.M.A, Marnie Stern. Zola Jesus fits the mould as a truly creative individual pushing the boundaries of what they do. The album follows up quickly from last year's Stridulum II which sold so well for us in our Records of the Year list. I hope you really enjoy her latest effort. It was really difficult to choose one standout record this month as the competition is fierce — Twin Sister have made a superb
debut album proper, Real Estate bring us an absolute beauty
available for no extra cost as an indie-exclusive, & Martyn's long
awaited debut is a really strong Electronica album. We also have three artists with connections to the shop — Zun Zun played on RSD 2010 & are regular customers; Steven Wilson is
coming for his second signing session with us on Monday 26th
in Bristol — we had queues out of the door last time when he came to Cheltenham & finally Kai Fish who has played once as part of Mystery Jets in our Bristol shop; he is now doing a tour of Bristol, Cheltenham & Worcester on 7th October!
Tracklist
A - Days Grow Older
B - Seekir