---
---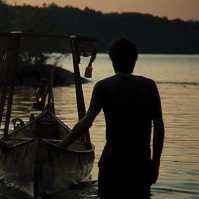 Format
---

MELO101LP

Long Player

£22.00

Expected 19th January 2015
Label
---
Flood Tide
---
There's always been a hugely cinematic tone to Dark Dark Dark's music, be it through the immersive sense of atmosphere much of the instrumentation and vocals instill, or the image-strewn lyrics and sense of place that can transport the listener to another world. So it makes perfect sense that they would end up in the world of cinema. However, this is not simply a film score commission. Here the group's involvement with Flood Tide runs much, much deeper. Flood Tide is written and directed by former band member Todd Chandler, and features the band both as characters and performers.
Set within artist Swoon's floating junk sculptures project, 'Swimming Cities of Switchback Sea', Flood Tide both documents and reimagines the real-life journey of Swoon and her collaborators as they build boats out of junk and set out on the open water of the Hudson River. All of this is accompanied by an original, nineteen song soundtrack by Dark Dark Dark.
The film and soundtrack release comes after a fruitful and productive few years for the group. After releasing the much praised debut album on melodic 'Wild Go' in 2011, the band followed up with full-length 'Who Needs Who' in 2012, and then the 'What I Needed' EP in 2013, a year that saw them tour the world, play two ATP's within 6 months (curated by The National and TV On The Radio), as well as create a score to Jerome Hill's La Cartomancienne. Flood Tide also premiered in 2013 at the Torino Film Festival, exposing the world to the group's rich and evocative soundtrack for the very first time.
With much of Dark Dark Dark's previous material being glued together by the distinctive vocals of Nona Marie Invie, this soundtrack is unique in that it is primarily instrumental, an approach that motivated the group immensely. "We were excited to have an opportunity to make an instrumental record because we've always been inspired by bands like Rachel's and Dirty Three, and soundtracks like those from the movies Waking Life and Dead Man," say the band. Much like some of the influences and inspirations mentioned here, the soundtrack to Flood Tide succeeds as a stand-alone record, even when free from its contextual home of the film. "This is a really unique record," the group say of the project, "it's much more textural and ambient than most Dark Dark Dark material.
The line-up featured on the soundtrack is one that never toured full time, and this record is a beautiful document of the chemistry and sensibilities of that variation of the band. The group have taken the material on the road, playing it in strange, distinctive places that are emblematic of the film's own unique journey. "We've played this material in a hand-built drive-in movie theatre filled with junk cars, on rafts on the Hudson River, in the canals of Venice and in museums across the USA."
The double gatefold vinyl release wraps up this project for the band perfectly, "We're excited to have the recordings out in the world. It's a document of a special time in our lives. Releasing a small run of vinyl with a download of the film seems like the most beautiful and intimate way to share this project."
Tracklist
1. All I Wanted
2. Winter Memory
3. Bike Ride
4. Jobs
5. Night
6. Building
7. Slow Flood
8. Lethe And Mnemosyne
9. Marina
10. On The Water
11. Castle
12. Quarry
13. Rain
14. Shipwrecks
15. Ghosts
16. Dragged By The Moon
17. Maps
18. Sunrise
19. Flood