---
---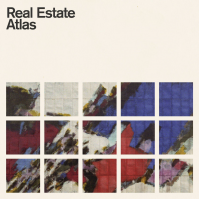 Format
---

WIGLP320

Long Player

£18.00

X

- Heavyweight 180gram Black Vinyl
- Gate-Fold Debossed Sleeve
- Includes MP3 Download Card
Label
---
Atlas
---
Atlas, the new album from Real Estate, was recorded over the summer and fall of 2013 with producer Tom Schick [Rufus Wainwright, Mavis Staples, Low], and the ten-song album will be preceded by the release of the single "Talking Backwards".
To commence the follow-up to their sophomore breakout, Days, founding members Martin Courtney (guitar/vocals), Matt Mondanile (guitar) and Alex Bleeker (bass/vocals) were joined by new full-time members, Jackson Pollis(drums) and Matt Kallman (keyboard) and producer Schick this past summer at Wilco's Chicago studio, The Loft. Nineteen songs were recorded in all over a two-week period and the result is the band¹s most collaborative, richly detailed album to date. 2011¹s Days not only earned Real Estate their second consecutive Pitchfork Best New Music, they also played a Tiny Desk concert for NPR, appeared at major festivals like Coachella and Pitchfork, and toured with The Shins and Kurt Vile.
The cover art of Atlas features a detail taken from Alexander's Mural, an iconic North Jersey landmark created by artist Stefan Knapp that once hung on the side of Alexander¹s department store for over twenty years, not far from the band's hometown of Ridgewood, NJ.
Tracklist
01. Had To Hear
02. Past Lives
03. Talking Backwards
04. April's Song
05. The Bend
06. Crime
07. Primitive
08. How Might I Live
09. Horizon
10. Navigator