---
---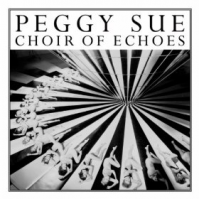 Format
Label
---
Choir Of Echoes
---
*** PRE ORDER THE ALBUM & RECEIVE TWO WRIST BANDS TO SEE PEGGY SUE PLAY LIVE AT RISE BRISTOL 21/1/14, 7PM ***
Choir of Echoes is an album about singing. Losing your voice and finding it again. Voices keeping each other company and voices competing for space. The call and response of the cruelest and the kindest of words. Choruses, duets, whispers and shouts. Emphatic double-tracks give way to solitary melodies and looped monosyllables take over from bittersweet shoo-bi-doos. All the while long-time drummer Olly Joyce remains both steady and gloriously disruptive and the guitars of front-women Rosa Slade and Katy Young grow ever louder and more hypnotic. With the assistance of producer Jimmy Robertson and bassist Ben Rubinstein (singer/guitarist, The Mariners Children) Peggy Sue recorded Choir of Echoes in the Winter of 2012 at residential studio Rockfield in Monmouth, Wales.

As well as touring Europe with Jack White, Joan As Policewoman and Wild Flag, Peggy Sue spent much of the year following the release of their second album, Acrobats, arranging and recording a Rock and Roll covers album inspired by the soundtrack of Kenneth Anger's cult movie Scorpio Rising. What began as a distraction became a sold out, hand made, self-released CD and a major influence on their third album proper. The process not only convinced the band that Robertson was their man (he produced the Peggy Sue play the songs of Scorpio Rising CD at his studio in Hackney) but re-confirmed a love and respect for the melancholy pop songs of 1950's and 60's. The band set about weaving their newly rediscovered doo-wop backing vocals through their grunge influenced post-folk.

A chorus of voices is built methodically, one at a time. Drums crunch. Guitars finish each other's sentences. Creeping surf melodies take over for a moment. Vocals clip and distort and morph into a pop song. A two minute long ballad. Clocks and electric heaters interrupt a love story. A girl gets dumped on the longest day of the year. A country song swims and comes up for air. She plays a guitar like a bass. He plays the bass like a guitar. We are restless and we think too much. We sing songs to ghosts. We sing songs to ourselves in a room full of people.
Tracklist
1. (Come Back Around)
2. Esme
3. Substitute
4. Figure of Eight
5. Always Going
6. Just the Night
7. How Heavy the Quiet That Grew Between Your Mouth and Mine
8. Electric Light
9. Longest Day of the Year Blues
10. Idle
11. And Always Is
12. Two Shots
13. The Errors of Your Ways