---
---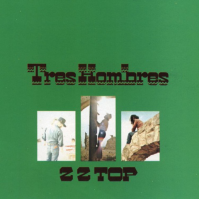 Format
---

8122799699

Long Player

£15.00

X

Reissued on 180gm vinyl, with original gatefold artwork and cut from the original analogue master tapes
Label
---
Tres Hombres
---
From their inception in Houston, Texas in 1970, ZZ Top "That Little Old Band From Texas" have gone on to become world famous, multi-million album selling, rock royalty - earning an induction into the Rock And Roll Hall of Fame on the way.
Their third album, released in 1973 was the first of many times the band worked with Terry Manning as engineer. It proved to be a successful partnership as this was the band's first commercial breakthrough, entering the top 10 in the US album chart while the single "La Grange" reached number 41 on the singles chart.
Tracklist
Side 1

1. Waitin' for the Bus
2. Jesus Just Left Chicago
3. Beer Drinkers & Hell Raisers
4. Master of Sparks
5. Hot, Blue and Righteous

Side 2

1. Move Me On Down the Line
2. Precious and Grace
3. La Grange
4. Shiek
5. Have You Heard?