---
---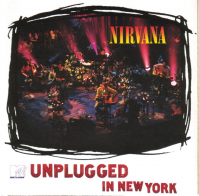 Format
---

GEF24727

Long Player

£15.00
Label
---
MTV Unplugged In New York
---
This posthumously released live album, recorded at Sony Music Studios, New York on November 18, 1993 for MTV's Unplugged series, was an intimate, acoustic session that was a definite departure from Nirvana's previous outing, In Utero. Released within a year of Kurt Cobain's death, it topped album charts around the world, going platinum in its first week of release.
Described by the NME as an album that 'makes its makers sound legendary. Your hankies should be at the ready', and by Melody Maker as "a fine and unreservedly recommended album, a melancholy masterpiece", it grants the acoustic treatment to Nirvana classics 'About A Girl', 'Come As You Are' and 'All Apologies', as well as a cover of David Bowie's 'The Man Who Sold The World' and closing with Leadbelly's 'Where Did You Sleep Last Night?', a track Kurt Cobain and Krist Novoselic had previously visited on Mark Lanegan's debut solo record. As one of the best albums of 1994, it was best summed up by Mojo as "…a performance of raw vulnerability that served as the perfect epitaph for poor Kurt Cobain".
180 gram vinyl remastered. Includes MP3 Download Code.
Tracklist
Side 1

1. About A Girl
2. Come As You Are
3. Jesus Doesn't Want Me For A Sunbeam
4. The Man Who Sold The World
5. Pennyroyal Tea
6. Dumb
7. Polly

Side 2

1. On A Plain
2. Something In The Way
3. Plateau
4. Oh Me
5. Lake Of Fire
6.All Apologies
7. Where Did You Sleep Last Night