---
---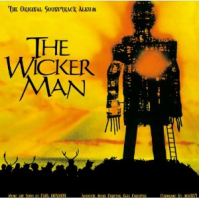 Format
---

MOVLP063

Long Player

£20.00
Label
---
Wicker Man
---
LP, 180 gram, LTD Colored Vinyl
Gatefold Sleeve
•Pressed on 180 grams Audiophile Vinyl
•LTD colored vinyl
•Gatefold Sleeve
For this 2010 release ALL the songs from the cult classic 1973 soundtrack are included.
Many years this was a holy grail among soundtrack aficionados, this release has been prepared from recently discovered master tapes with a clarity and presence that gives the late Paul Giovanni's haunting music the showcase it has so long deserved.
The Wicker Man is one of the most sought after soundtracks ever! Now presented in STRICTLY LIMITED EDITION COLOURED VINYL and packaged in a lavish gatefold sleeve with extensive notes and stills from the movie. A luxurious package that pays homage to what is without doubt one of the most innovative and provocative British cult horror films ever produced.
This is definitely the stuff that myths are made of! Containing exclusive material from the later, longer version of the film, including the song "Gently Johnny", which was not available on early LP issues.
Paul Giovanni, together with Magnet, has created a mysterious and sinister world that has a life of it's own nearly 30 years after the film's release - flutes, lyres, harmonicas, and guitars, mixed in with original and traditional material makes each song totally different, summing up the atmosphere of the movie brilliantly! The Wicker Man is a stunning soundtrack which all you movie buffs and traditional British folk music fans are advised to snap up for your collection!
Tracklist
A1 Corn Rigs 2.37
A2 The Landlord's Daughter 2.39
A3 Gently Johnny 3.33
A4 Maypole2.46
A5 Fire Leap 1.28
A6 The Tinker Of Rye 1.52
A7 Willow's song 4.42

B1 Procession 2.16
B2 Chop Chop 1.44
B3 Lullaby 0.58
B4 Festival / Mirie It Is / Sumer Is A– Cumen In 4.29
B5 Opening Music / Loving Couples / The Ruined Church 4.16
B6 The Masks / The Hobby Horse 1.25
B7 Searching For Rowan 2.22
B8 Appointment With The Wicker Man 1.18
B9 Sunset 1.05