---
---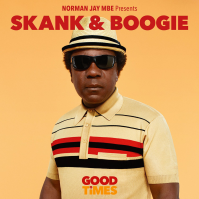 Formats
---

SBESTCD71

CD

£10.00

Expected 9th October 2015

---

SBESTLP71

2 x Long Player

£22.00

Expected 9th October 2015
Label
---
Good Times Skank & Boogie
---
Norman Jay MBE presents his latest compilation, titled 'Good Times Skank & Boogie', set for release 9th October 2015 on Sunday Best Recordings / Pias. This is his first compilation since 2011's Good Times 30th Anniversary Addition and follows on from his hotly anticipated Good Times Goes East party at St John Church at Hackney on 29th August.

Norman Jay is undoubtedly one of the finest and highly respected DJs in the world today and yet again pulls from his impressive collection to provide the ultimate eclectic selection.

For this 12th compilation, for those of you counting, Norman kicks off with St Germain's version of Henry Mancini's Pink Panther Theme. A cult favourite from 2004s Pink Panther Penthouse Party album, it of course immediately brings Peter Sellers to mind and a smile to your face. Next up former Uniques front man Slim Smith's Everybody Needs Love is a classic from 1968, cut at the legendary Duke Reid's Treasure Isle studio. Penned originally by Motown heroes Norman Whitfield and Eddie Holland and covered by household names including The Temptations and Glady's Knight & The Pips, Slim's version became something of a signature tune until his mysterious death in 1971. Sticking with Motown, Stevie Wonder's Living For The City is up next but it's the Michael McDonald rendition from his 2008 album Soul Speak, which proves the man who gave us the sublime Sweet Freedom had lost none of his class 20 plus years on.

D-Influence's Good Lover takes things up and brings them closer to home, to the streets of London infact. After a couple of independent releases the band, who had strong connections to the London Jazz and Soul scenes, served up this contemporary boogie tune as part of their 1992 debut long player for East West. They would subsequently score hits as a production team for a number of British R&B acts. Homegrown soul continues with Paul Johnson'sBetter Than This, released here via longstanding UK soul imprint Expansion to deserved acclaim last year. It's quality and appeal are simply timeless, whilst master Dego and Kaidi's mix adds a classic 80s soul dimension to proceedings.

The Chi-Lites I Keep Comin' Back To You and The Real Thing's Love Takes Tears continue and expand the 80s theme, bringing in 2-step and boogie, as does Deodato's Never Knew Love from the same period.

We switch again with Delroy Wilson's Better Must Come, a massively popular sufferers lament from 1971 by this former Jamaican child star, it would go on to be used in election campaigns by various Jamaican political parties. Kent People by Laurel Aitken & The Gruvy Beat is the next one out the box and was the flip to the 1969 anthem Skinhead Train. It features the UK's top reggae band of the era The Rudies, who along with Aitken, the widely-proclaimed Godfather of Ska, comprised of Earl Dunn (lead guitar), Trevor White (bass), Sonny Binns (keyboards) and Danny Smith (drums). They would go on to enjoy UK chart success backing singer Freddie Notes before they evolved into Greyhound. From the same year Splash Down by The Crystalites is another slate that ignited dance floors in both Jamaica and the UK upon release. Some of you will have noticed the rhythm track is the same as that of the earlier Kingstonians' best-seller, Sufferer, which came courtesy of legendary producer Derrick Harriott.

As the end draws close The Stone City Band featuring Rick James serve up some hard edged boogie, hotly followed by a classic Tom Moulton slice of late 70s disco courtesy of The Fantastic Four and their I Got To Have Your Love. If that doesn't have you dancing then Chanson's superb Don't Hold Back featuring James Jamerson Jr. on bass will leave you no choice. Classic Good Times indeed.
Tracklist
1. St. Germain - Pink Panther Theme
2. Slim Smith - Everybody Needs Love
3. Michael McDonald - Living For The City
4. D-Influence - Good Lover
5. Paul Johnson - Better Than This (Dego&Kaidi's 2000 Black Mix)
6. The Chi-Lites - I Keep Comin' Back To You
7. The Real Thing - Love Takes Tears
8. Deodato - Never Knew Love
9. Delroy Wilson - Better Must Come
10. Laurel Aitken & The Gruvy Beats - Kent People
11. The Crystalites - Splash Down (Original Mono Recording)
12. Stone City Band feat. Rick James - Little Runaway
13. The Fantastic Four - I Got To Have Your Love
14. Chanson - Don't Hold Back
15. Baby Washington – Think About The Good Times (Vinyl Only Bonus Track)