---
---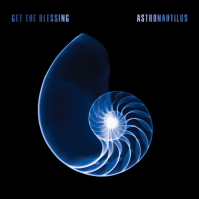 Format
---

NAIMCD221

CD

£10.00

Expected 18th September 2015
Label
---
Astronautilus
---
Astronautilus is dedicated to the memory of Ornette Coleman, who passed away in June this year and who was pivotal to the band's formation in 2000. After fifteen years Get The Blessing can still lay claim to their original line up: Jake McMurchie sax and electronics; Pete Judge trumpet, flugel horn, piano and electronics; Clive Deamer drums and percussion and Jim Barr bass, electronics and organ
Astronautilus was literally composed between crashing waves and deserted estuary sands, producing an album of pounding rhythms, spacious atmospheres and strongly-crafted melodies - plus, of course, the unpredictability and musical mischievousness that have made the band so exciting and successful.
Astronautilus has all the deep textures and open-sounding playing with electronics you would expect, but with a greater sense of structure and depth. On first listening it's darker and subtler, but further listening reveals it to be an exciting and focused album, or as the band put it, "dark with a joyous soul." With more adventurous improvisation and electronics coming into play, it seems a natural development and refinement of previous work.
The opener, 'Phaenomena,' is an improvised track, driven by Clive Deamer's afro-beat-esque drumming, and is a particular favourite of the band as it's so unlike anything they've done before. After this comes 'Carapace,' a beautifully arranged piece, incorporating vivid and exciting electronic improv, was recorded in one take, with no additions or overdubs. 'Monkfish' returns to early Blessing days, a riotous affair, simultaneously inspired by Thelonius Monk, a pair of Deamer's shoes and of course, the fish. 'Hayk' refers to the Armenian name for the constellation of Orion the hunter, and comprises a menacing, disjointed, Miles-esque start, followed by a warm, reflective, harmonically rich and quasi-euphoric ending.
That they can still produce such creative and intelligent music - all balanced with wit and passion - as well as find time to work on other projects, is testament to the free spirit that they embody, not to mention their new cocktail, the Gin Garden.
Tracklist
1. Phaenomena
2. Carapace
3. Monkfish
4. Conch
5. Cornish Native
6. Nautilus
7. Green Herring
8. Hayk
9. Sepia