---
---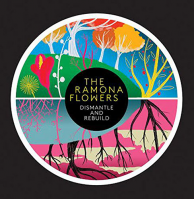 Formats
---

---

DTIL064V

Long Player

£7.00
Label
---
Dismantle And Rebuild
---
Following a string of powerful and much-celebrated singles over the last year, including Brighter, Lust and Lies and Tokyo, The Ramona Flowers release their eagerly anticipated debut album, Dismantle and Rebuild on July 14th through Distiller Records.
Hailing from Bristol, the musical home of such electronic-indie greats as Tricky, Portishead and Massive Attack, The Ramona Flowers boast a wealth of influences and inspirations that have helped to shape their anthemic, emotionally charged sound. Under the mentorship of Andy Barlow, of iconic Manchester duo Lamb, the band have used such wide-ranging influences and their personal experiences to hone a textural, electronic brand of stadium-ready indie anthems.
Recorded at the label's renowned Distillery Studios in Bath, debut album Dismantle and Rebuild showcases a band at the height of their creative development. The Ramona Flowers successfully meld electronica, rock and indie into a slickly cohesive 11-track set laden with a confidence it takes most bands years to achieve. This is in no small part due to the bands relentless touring schedule in the build up to this release which has seen them win over audiences across the U.K and Europe touring alongside Bastille, Bombay Bicycle Club, Lamb and Foxes and drawn the attention of such acts as Alt-J, Everything Everything, Hot Chip, Ladytron and Eagles For Hands, all of whom have offered remixes.
Tracklist
1. Tokyo
2. Brighter
3. Dismantle and Rebuild
4. Lust and Lies
5. World Won't Wait
6. Modern World
7. Skeleton Key
8. Vultures
9. Friend Of The Madness
10. So Many Colours
11. Like A Feather (feat. Lou Rhodes)