---
---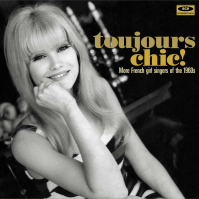 Formats
---

CDCHD1447

CD

£10.00

Expected 25th September 2015

---

HIQLP036

Long Player

£13.00

Expected 25th September 2015
Label
---
Toujours Chic! More French Girl Singers Of The 1960s
---
Experience the hip sounds of 1960s France with "Toujours Chic!", the latest in our series of groovy Gallic girl-pop. The collection is available on 24-track CD and 12-track LP formats.
Star of the show is series debutante Laura Ulmer, who graces the cover of the CD version and contributes three pure pop tracks in the France Gall mode. Fabienne, Zouzou, Charlotte Walters, Stone, Nicole Legendre, Véronique Sanson and Isabelle Aubret are all also new to the series.
The LP version, featuring a gorgeous cover photo of Françoise Hardy, is pressed on 180g lavender vinyl and comes with a fully illustrated inner bag.
Tracklist
1. Cours Si Tu As Peur - Fabienne
2. Demain - Zouzou
3. Amoureux D'une Affiche - Laura Ulmer
4. La Guerre Des Chansons - France Gall
5. Pour La Gloire - Annie Philippe
6. Rouge, Roug - Christie Laume
7. Ce Que Je Suis - Valérie Lagrange
8. Demandez Speciale Dernière - Laura Ulmer
9. Les Temps Ont Changé - Pussy Cat
10. Il Est Parti Comme Il Etait Venu - Zouzou
11. Je T'aime - Françoise Hardy
12. Les Prisons De Sa Majesté - Delphine
13. Angel Of Sin - Charlotte Walters
14. Quand Tu Verras La Pluie Tomber - Fabienne
15. Le Nénuphar - Stone
16. Cette Nuit - Pussy Cat
17. A La Fin De La Soirée - Sheila
18. Tu Veux Tout Changer - Nicole Legendre
19. Les Cover Girls - Laura Ulmer
20. L'antiquité - Stone
21. Le Printemps Est Là - Véronique Sanson
22. Nue Au Soleil - Brigitte Bardot
23. Arc-En-Ciel - Isabelle Aubret
24. L'ami De Mon Enfance - Sheila