---
---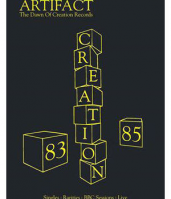 Format
---

CRCDBOX19

5 x CD

£40.00

Expected 25th September 2015
Label
---
Creation Artifact: The Dawn Of Creation Records 1983-85
---
Creation Records was one of the most important, vital independent labels of the 80s and 90s, born in the post-punk era and progressing to define the Britpop generation. CREATION ARTIFACT is the first comprehensive box set devoted to the early years of Creation Records. the label was born from a hip London club night and won the plaudits with a string of limited edition 7" singles and a handful of albums –
including the acclaimed debut 'Upside Down' by the Jesus & Mary Chain.
During this period 1983-1985, the label also issued vinyl by Primal Scream (their debut 45), The Pastels, The Bodines, The Loft, The Membranes, The Jasmine Minks et al. Housed in a lavish 'book' set, CREATION ARTIFACT pays tribute to that seminal period with two discs comprising early A's and B's, a third CD of rarities and album tracks, another comprising previously unissued demos and a fifth disc of rare BBC sessions.
Awash with rare memorabilia, a 12,000-word essay from journalist Neil Taylor, band biographies, personal reminiscences and numerous archive finds, CREATION ARTIFACT is the ultimate tribute to the dawn of Creation Records 1983-1985!
Tracklist
Disc 1
1. '73 in '83 - The Legend!
2. You (Chunka Chunka) We're Glamorous - The Legend!
3. Melt The Guns - The Legend!
4. Flowers In The Sky - The Revolving Paint Dream
5. In The Afternoon - The Revolving Paint Dream
6. Fifty Years Of Fun - Biff Bang Pow!
7. Then When I Scream - Biff Bang Pow!
8. Think! - The Jasmine Minks
9. Work For Nothing - The Jasmine Minks
10. Something Going On - The Pastels
11. Stay With Me Till Morning - The Pastels
12. Do The Ghost - The X-Men
13. Talk - The X-Men
14. There Must Be A Better Life - Biff Bang Pow!
15. The Chocolate Elephant Man - Biff Bang Pow!
16. Where The Traffic Goes - The Jasmine Minks
17. Mr Magic - The Jasmine Minks
18. Why Does The Rain - The Loft
19. Like - The Loft
20. Winter - The Loft
21. The Legend! Destroys The Blues - The Legend!
22. Arrogant Bastards - The Legend!
23. Bad Girl - The X-Men
24. Million Tears - The Pastels
25. Surprise Me - The Pastels
26. Baby Honey - The Pastels

Disc 2
1. Upside Down - The Jesus And Mary Chain
2. Vegetable Man - The Jesus And Mary Chain
3. Up The Hill And Down The Slope - The Loft
4. Your Door Shines Like Gold - The Loft
5. Lonely Street - The Loft
6. Time - The Loft
7. God Bless - The Bodines
8. Paradise - The Bodines
9. All Fall Down - Primal Scream
10. It Happens - Primal Scream
11. What's Happening - The Jasmine Minks
12. Black & Blue - The Jasmine Minks
13. Don't Slip Up - Meat Whiplash
14. Here It Comes - Meat Whiplash
15. Singing In Braille - Five Go Down To The Sea?
16. Aunt Nelly - Five Go Down To The Sea?
17. Silk Brain Worm Women - Five Go Down To The Sea?
18. Justice And Money Too - The Moodists
19. You've Got Your Story - The Moodists
20. Take Us All Home - The Moodists
21. I'm Alright With You - The Pastels
22. Couldn't Care Less - The Pastels
23. What It's Worth - The Pastels
24. Love And Hate - Biff Bang Pow!
25. Worm In My Brain - The Weather Prophets

Disc 3
1. Participate - The Laughing Apple
2. Wouldn't You - The Laughing Apple
3. In The Afternoon (Early Version) - The Revolving Paint
Dream
4. The Thirty Second Set Up - The Jasmine Minks
5. Somers Town - The Jasmine Minks
6. Fifty Years Of Fun (Almost Live Version) - Biff Bang Pow!
7. Waterbomb! - Biff Bang Pow!
8. Someone Stole My Wheels - J.C. Brouchard with Biff
Bang Pow!
9. Sunny Days - J.C. Brouchard with Biff Bang Pow!
10. Upside Down (Demo Version) - The Jesus And Mary
Chain
11. Just Like Honey (October 84 Demo) - The Jesus And
Mary Chain
12. God Bless (Alternative Version) - The Bodines
13. I Am Fish Eye - The Membranes
14. Gift Of Life - The Membranes
15. Seven And Seven Is (ALIVE IN THE LIVING ROOM) -
The Jasmine Minks
16. I Fall (ALIVE IN THE LIVING ROOM) - The June Brides
17. Arrogant Bastards (ALIVE IN THE LIVING ROOM) - The
Legend!
18. A.W.O.L. (ALIVE IN THE LIVING ROOM) - The Three
Johns
19. Your Door Shines Like Gold (ALIVE IN THE LIVING
ROOM) - The Loft
20. Rock 'n' Roll Shoes (ALIVE IN THE LIVING ROOM) -
The Mekons
21. Sweet Soul Music (ALIVE IN THE LIVING ROOM) - The
Legend! & His Swinging Soul Sisters
22. Green Fuz (ALIVE IN THE LIVING ROOM) - The
Jasmine Minks
23. Lonely Lenny (ALIVE IN THE LIVING ROOM) -
Alternative TV
24. A Picture Of Dorian Gray (Live) - TELEVISION
PERSONALITIES
25. The Dream Inspires (Live) - TELEVISION
PERSONALITIES
26. Family Affair (Live) - TELEVISION PERSONALITIES

Disc 4
1. All Fall Down - The Jasmine Minks
2. Work - The Jasmine Minks
3. Second Post - The Jasmine Minks
4. Boredom (Is) - The Legend!
5. Losing Your Grip - Meat Whiplash
6. Always Sunday - Meat Whiplash
7. Walk Away - Meat Whiplash
8. Victorian Values - The Legend!
9. Home - The X-Men
10. Planet Of The X - The X-Men
11. The Train From Kansas City - The Moodists
12. The Day They All Wake Up - The Moodists
13. I Guess I'm Dumb - The Moodists
14. Social Protest (By Numbers) - The Legend!
15. Mr Magic - The Jasmine Minks
16. Friends - The Jasmine Minks
17. Do You Remember - The Legend!
18. Lost Your Dreams - Biff Bang Pow!
19. I'm Okay Me - Biff Bang Pow!
20. Picture The Scene - The Legend!
21. A Tryst For Liszt - The X-Men
22. Stone Cold One Note Mind - The X-Men
23. Choice - The Jasmine Minks
24. Everybody's Got To Grow Up Sometime - The Jasmine
Minks

Disc 5
1. The Witch (John Peel 13/9/1984) - The X-Men
2. Little Girl (John Peel 13/9/1984) - The X-Men
3. Xtramental (John Peel 13/9/1984) - The X-Men
4. On A Tuesday (Janice Long 9/12/1984) - The Loft
5. Skeleton Staircase (Janice Long 9/12/1984) - The Loft
6. The Canal And The Big Red Town (Janice Long
9/12/1984) - The Loft
7. Lonely Street (Janice Long 9/12/1984) - The Loft
8. Other Man (John Peel 10/7/1985) - The Moodists
9. Bullet Train (John Peel 10/7/1985) - The Moodists
10. Take The Red Carpet Out Of Town (John Peel
10/7/1985) - The Moodists
11. Justice And Money Too (John Peel 10/7/1985) - The
Moodists
12. Loss (John Peel 28/10/1985) - Meat Whiplash
13. Walk Away (John Peel 28/10/1985) - Meat Whiplash
14. Eat Me To The Core (John Peel 28/10/1985) - Meat
Whiplash
15. She Comes Tomorrow (John Peel 28/10/1985) - Meat
Whiplash
16. Scar Tissue (Janice Long 13/10/1985) - The Bodines
17. Therese (Janice Long 13/10/1985) - The Bodines
18. William Shatner (Janice Long 13/10/1985) - The Bodines
19. The Back Door (Janice Long 13/10/1985) - The Bodines
20. Beware (Live) - The Loft
21. Wide Open Arms (Live) - The Loft
22. Worm In My Brain (Live) - The Loft
23. Up The Hill And Down The Slope (Live) - The Loft