---
---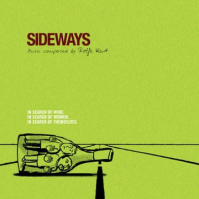 Format
---

SILLP1174

Long Player

£20.00

Expected 2nd October 2015

X

Limited to 1000 copies on burgundy vinyl.
Label
---
Sideways OST
---
Multi award-winning film Sideways was the surprise box office hit of 2004 and its story of two disillusioned forty-somethings on a wine infused road trip around California still holds a unique mixture of comedy and pathos. Rolfe Kent's jazz inflected soundtrack accompanies them on their journey, its subtle lightness of touch the perfect accompaniment to their mid-life crises.
Tracklist
1. Asphalt groovin'
2. Constantine snaps his fingers
3. Drive!
4. Picnic
5. Lonely day
6. Wine safari
7. Miles' theme
8. Los Olivos
9. Chasing the golfers
10. Walk to the hitching post
11. Abandoning the wedding
12. Slipping away as mum sleeps
13. Bowling tango
14. I'm not drinking any *** Merlot
15. Miles and Maya