---
---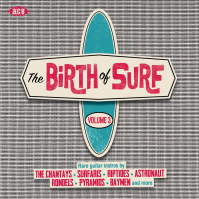 Format
---

CDCHD1454

CD

£10.00

Expected 25th September 2015
Label
---
Birth Of Surf Vol.3
---
Newly compiled by the guys from Pipeline Magazine, "The Birth Of Surf Vol 3" follows the pattern of the earlier volumes in representing the influential pre-surf instrumental scene and then moving on through the genre's prime years of 1963 and '64 with a selection of hits and rare gems.
Its 26 tracks includes rockin' contributions from influential acts such as Johnny & The Hurricanes, the genre-defining blast of Dick Dale on 'The Victor' and follow-up singles from hit makers the Chantays ('Scotch High's'), Astronauts ('Surf Party') and Pyramids ('Pressure'), none of which appeared on their albums.
Alongside all of the big names and many hard-to-find recordings are no less than seven tracks appearing on CD for the first time. These include much sought-after rarities like 'Bonzai' by the Baymen, 'Minor Chaos' by the Treasures and 'Static' by the Velvetones plus a previously unreleased gem from The deFenders' aptly titled 'More Surf'.
The packaging includes a full colour illustrated booklet with authoritative track-by-track info in 5,000 words of text from Pipeline editor and North Sea Surf Radio DJ Alan Taylor.
"The Birth Of Surf Vol 3" is a match for its successful predecessors. It's an exciting listen, an attractive purchase for the casual buyer and an essential acquisition for collectors.
Tracklist
1. Flaming Guitar - Billy Mure
2. Machine Gun - The Rip Tides
3. Sheba - Johnny & The Hurricanes
4. Lone Survivor - The Beachcombers
5. Boss - The Rumblers
6. Vesuvius - The Sentinals
7. Scotch High's - The Chantays
8. Moment Of Truth - The Original Surfaris
9. Failsafe - The New Dimensions
10. Bonzai - Baymen (No The)
11. Surf Party - The Astronauts
12. Bacardi - The Torquetts
13. The Force Of Gravity - The Genteels
14. Christina - The Charades Band
15. On The Run - The Rondels
16. The Victor - Dick Dale & The Del-Tones
17. The Marauder - Marrell's Marauders
18. Pressure - The Pyramids
19. Gear! - Dave Myers & The Surftones
20. Countdown - Buddy Lee & The Satellites
21. More Surf - The De-Fenders
22. Take 7 - The Novas
23. Minor Chaos - The Treasures
24. Static - The Velvetones
25. Heartbeat - The Avengers VI
26. Storm Surf - The Surfaris