---
---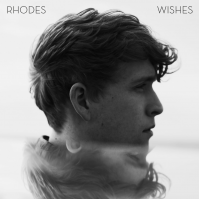 Formats
---

RMART1CD

CD

£10.00

Expected 18th September 2015

X

Includes x 2 wristbands to Bristol in store

---

RMART1LP

2 x Long Player

£22.00

Expected 18th September 2015

X

Includes x 2 wristbands to Bristol in store

---

RMART1LPLTD

3 x Long Player

£25.00

Expected 18th September 2015

X

Deluxe triple LP package with extra tracks

Includes x 2 wristbands to Bristol in store
Label
---
Wishes
---
*** PRE ORDER 'WISHES' ON CD OR LP TO GET X 2 TICKETS TO SEE AN INTIMATE, ACOUSTIC SET AT RISE BRISTOL 20TH SEPT 5PM ***
Rhodes grew up in Hitchin where his father introduced him to the blues when he was small most notably Robert Johnson. Soon after he began to play guitar and his best friend's sister later turned him onto Nirvana, Blur and Oasis at which point he took up piano. While at a local college, Rhodes regularly met other musicians at Club 85. After moving to London, he joined a band as their bassist, which quickly became a catalyst for songwriting.
"It taught me a lot about putting songs together," says Rhodes. "About rhythm and what gives a song its backbone." However, singing came late to him. "I've been playing guitar since I can remember but singing was something I was just too afraid to do."
He's spent the last 18 months quickly making up for lost time because it's his voice that really defines Rhodes, setting him apart from everyone else. This was never more apparent than on a recent Huw Stephens Radio 1 session when Rhodes performed an incredible cover of Taylor Swift's 'Blank Space'. It was so good that Taylor Swift re-tweeted the session.
A brooding and melancholic collection of self-written songs, debut album, 'Wishes' is refreshing in its stripped back beauty, with Rhodes' haunting and unique vocals taking centre stage. The album confirms the arrival of a major talent who has already been compared to artists as diverse as Jeff Buckley and Adele, with a flair for writing songs that build from something incredibly fragile to a hugely powerful climax. Nowhere is this more evident than on new single 'Close Your Eyes'.
Rhodes has travelled a long way in a short time building on what has been a phenomenal beginning to a career that promises longevity. He's supported Ben Howard, London Grammar, George Ezra and Sam Smith while selling out his own shows including his biggest show to date at London's Village Underground in March. With his eagerly anticipated debut album 'Wishes' on the way in September, Rhodes will be taking the stunning record on the road this autumn, including his biggest show to date at Koko October 9th.
Tracklist
1. Intro
2. Close Your Eyes
3. Raise Your Love
4. You & I
5. Breathe
6. Somebody
7. Turning Back Around
8. Your Soul
9. Losing It
10. Let It All Go
11. Better
12. Wishes