---
---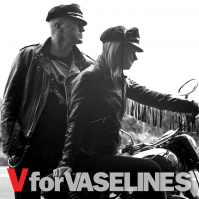 Formats
---

---

RMUSIC1LP

Long Player

£10.00
Label
---
V Is For Vaselines
---
There's that sound again, that Vaselines sound: a winsome sweetness, a touch of melancholy and a lithe, libidinous drive that recalls all the best, coolest rock & roll. Eugene Kelly and Frances McKee's voices intertwine in that ineffable way they have, a sort of highland Nancy 'n' Lee. And those songs: joyous slices of classic pop songwriting brimming with heart and wit. But on their new album V for Vaselines, the guitars are bigger and fuzzier, the beats hit harder and tighter, and the whole affair bursts with punky energy. "We wanted the whole record to be upbeat," says Eugene. "It's as in-your-face exciting as we could possibly make it." It all started a couple of years ago, when Eugene chanced upon a Ramones cover band at a club in the band's hometown of Glasgow. "After that," he says, "I just wanted to write some really short punk rock songs, just get into people's ear straight away and then get out as quickly as possible." At the same time, Frances' kids were discovering the Ramones, and she, too, got the itch to write songs that were "rough and ready" and "quite punchy."
A batch of songs spilled out quickly, including "Earth Is Speeding." "It's about letting go of things and not being too precious," says Frances. "If you get too attached to what's supposed to come out of it, then it's going to be counterproductive." And that's the whole approach of V for Vaselines: "We didn't want to write these songs and then tinker with them forever,Frances adds. "We wrote and recorded them quickly, in a punk way." Very soon, they were recording at Mogwai's Glasgow studio, Castle of Doom, with noted producer-engineer Tony Doogan (Mogwai, Delgados, Belle & Sebastian). Things were very spontaneous often, they didn't even decide who was going to sing each song until shortly before they recorded it. They'd simply bang out a track and move on to the next one. "It was a great experience," Eugene says. "We made a lot of progress, rather than going back to what we'd done 20 years ago." Along for the sessions were some Glaswegian mainstays: Michael McGaughrin (1990s) on drums, Graeme Smillie (Olympic Swimmers) on bass, and guitarists Scott Patterson (Sons and Daughters) and Paul Foley (Mandrake Shepherd). Belle & Sebastian's Stevie Jackson played on a couple of songs, and Frank Macdonald (Teenage Fanclub) played piano and electric piano on two songs.
There's plenty of love gone wrong on V for Vaselines, especially on the duet songs "Crazy Lady" and "Single Spies" and yet the pain is redeemed by the pure joy of the music. "The songs take on a lot of serious issues," says Frances. "But you want to put some levity into things rather than make it all so serious." The opener "High Tide Low Tide" announces what V for Vaselines is all about: upbeat, catchy and loud, it grabs you by the collar and gets you up to dance but it packs a mature punch. "I often cycle along the River Clyde," says Eugene, "and sometimes the river is up and sometimes it's down. And I just started getting a tune in my head. It's about the difficulty with commitment finding the one you love and then being difficult about it when you do. There's a river between you and all you have to do is swim across it. But sometimes you just can't do it."
"False Heaven," says Frances, is about a relationship falling apart. "You think you're in this great place," she explains, "and then you realize it's not a great place it's false, it's not the place you want to be at all." "Single Spies" is one of the more straightforward lyrics on the album: "A couple is breaking up," Eugene explains, "and she says 'I'm leaving you' and the guy is an idiot and he's saying 'What have I done wrong?'" "The Lonely LP" is a rumination on, of all things, music formats, written from the perspective of an old LP, sitting on the shelf, alone and unloved. It's not readily obvious but "Inky Lies" has its roots in the News of the World phone-tapping scandal and takes on celebrity culture: "Do we need all this noise in our lives?" says Frances. "Shouldn't we focus on our own lives and not be influenced by what's going in the lives of people we don't even know?" Eugene was stuck for a lyric for the closer, "Last Half Hour," until he saw a TV show about Tony Hancock, a famous British comedian from the '50s and '60s who eventually self destructed, taking his own life in 1968 amid an alcoholic tailspin. "It's about the has-been, the faded actor, the entertainer who's on his way out but still trying to create," says Eugene. "So the album ends on a final curtain."
A little background: The Vaselines formed in Glasgow in 1987 and released two singles on Scotland's legendary 53rd & 3rd label, and one album, Dum Dum, on Rough Trade. Their music was a playful, sex-obsessed, and totally catchy amalgam of bubblegum and the Velvet Underground that would help form the blueprint for modern indie-pop. The Vaselines broke up in 1989 the same week Dum Dum was released but soon Kurt Cobain began literally singing their praises: not only did he plug them in interviews, calling Eugene and Frances his favourite songwriters in the whole world, but Nirvana covered three Vaselines songs, igniting world-wide interest in this obscure, defunct and absolutely brilliant band. In 1992, Sub Pop released the compilation The Way of the Vaselines, introducing the band to a new generation of fans. Eugene and Frances were still making music: Eugene formed Captain America, aka Eugenius, and signed with Atlantic Records; Frances led the bands Painkillers and Suckle.
The two stayed in touch and even played together now and then, reuniting in 2008 and touring the U.S. including a legendary appearance at Sub Pop's 20th anniversary festival as well as Brazil, Japan and the UK to adoring audiences beguiled by the band's irresistible tunes and hilariously salty stage banter. Soon, there was the acclaimed Sex with an X (2010) unmistakably the Vaselines but with a more sophisticated sound and a newfound poignancy and wisdom. Above all, V for Vaselines is a celebration of the continued chemistry of Eugene and Frances. "We just work together well," Eugene says. "I don't know what it is but when we get together, it creates a sound we couldn't do separately."
They were struggling for an album title until one day Eugene came across a classic photo of Winston Churchill flashing the V-for-victory sign. "And I just thought, 'V for Vaselines!'" he says. Frances loved it too, so that was it. And the album is indeed a sort of victory. "We were wondering if we could do something new and different for us, so we decided to see if we could," says Eugene. "We're really happy that we've made a record that we can be proud of."
Tracklist
1. High Tide Low Tide
2. The Lonely L.P.
3. Inky Lies
4. Crazy Lady
5. Single Spies
6. One Lost Year
7. Earth Is Speeding
8. False Heaven
9. Number One Crush
10. Last Half hour