---
---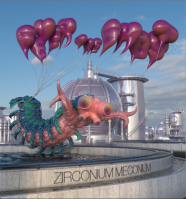 Formats
---

HVNLP120CD

CD

£10.00

Expected 25th September 2015

---

HVNLP120

Long Player

£18.00

Expected 25th September 2015
Label
---
Zirconium Meconium
---
Transmitting cosmic narratives and inventive song structures, Fever The Ghost's sprawling pop saga 'Zirconium Meconium' sleekly marries the group's esoteric tendencies with an inescapable melodicism. Described by the band as a 'collection of songs musically interpreting the third dimensional integration process from the perspective of vital force energy incarnating into the physical world' - The album combines interstellar vibrations and a sense of youthful wonder into into an unparalleled pop sound.
The album's introduction "Metempsychosis" (meaning the supposed transmigration at death of the soul into a new body of the same or a different species), sets the ominous tone for the journey before giving way to the riffing stomp of "Rounder II" showcasing Fever The Ghost's aversion verse-chorus structure and uncanny ability to synthesize glam/psych/kraut rock, groove-based music, and experimental electronic sounds with radio friendly hooks into addicting sci-fi pop.
Lush moments on the album, like "Sun Moth" and "Peace Crimes" soar with entrancing atmospheres, while "Vervain (Dreams of an Old Wooden Cage)" and "Fathoms" strike a dynamic balance between the delicate and raucous. Fever The Ghost steps out even further into new territory on the catchy "1518", meshing their signature elements into dance structures. "Equal Pedestrian" sonically tips its hat to the whimsical electro-pop spirit of Yellow Magic Orchestra.
'Zirconium Meconium' comes on the heels of the Crab In Honey EP, which received much adulation from critics and peers alike. (Wayne Coyne affectionately saying about the EP in Mojo, 'They're great musicians but don't give a fuck about that, they just love a drum machine for the sound.'"
Fever The Ghost's genuinely weird (and weirdly accessible) sound sinks its hooks into you deeper each successive listen. In just the last year, the Los Angeles-based band has toured extensively with the likes of The Flaming Lips, Sean Lennon, and a recently wrapped east coast run with Temples. The band also contributed to last year's Beatles' tribute 'A Little Help From My Friends,' curated by Coyne. .
Fever The Ghost are: Casper (vocal /guitar), Bornabin (synth), Nicolas (drums) & Mason (bass).
Tracklist
1. Metempsychosis
2. Rounder II
3. Hinterland
4. Peace Crimes
5. Surf's UP!…Nevermind
6. Long Tall Stranger
7. Fathoms
8. 1518
9. Sun Moth
10. Vervain (Dreams of An Old Wooden Cage)
11. Equal Pedestrian
12. A Friend In Lonely Jesus