---
---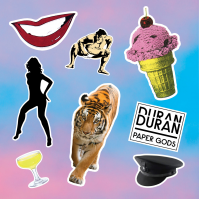 Formats
---

093624925149

CD

£15.00

Expected 11th September 2015

---

093624926429

CD

£10.00

Expected 11th September 2015

---

093624926412

2 x Long Player

£22.00

Expected 11th September 2015
Paper Gods
---
Duran Duran confirm they will release their 14th studio album, Paper Gods on September 11th through Warner Bros. Records. Singer Simon Le Bon, keyboardist Nick Rhodes, bassist John Taylor, and drummer Roger Taylor recorded the album in London with producers Nile Rodgers, Mark Ronson, Josh Blair, and Mr Hudson. The record features special guests Janelle Monáe (on the first single "Pressure Off"), former Red Hot Chili Peppers guitarist John Frusciante, Canadian Juno-Award winning singer Kiesza, British singer/songwriter Mr Hudson, violinist Davidé Rossi and actress Lindsay Lohan. The album was mixed by Mark 'Spike' Stent.
The songs on Paper Gods capture the duality and sense of conflict at the heart of Duran Duran's music. "It really goes back to that strange early Duran mix: the hard-edged pop, coexisting with this dark, weird, experimental side," John says. "That's something that's essential to all of us," Nick adds. "It's great to be able to lift people's spirits — and your own — with a strong shot of pure pop, but the world we live in isn't all just made of that stuff, so it seems natural to me that we have kept one foot in the darker, more Gothic side of life."
"We found a whole new level of inspiration on this album," says Rhodes.
"We've allowed ourselves the time to make music that we can be proud of," adds Le Bon . "I judge what we release by my favourite albums — Horses, Harvest, Let It Bleed, Blue, Transformer, Aladdin Sane. Those are classic albums. The only rule is it's got to be music you can live with for the rest of your life."
CHIC co-founder Nile Rodgers and Mark Ronson co-wrote, and produced the tracks "Pressure Off" and "Only in Dreams. Rodgers also features on the first single from what will be the band's 14th studio release. The former harks back to the taut funk of Duran Duran's 1986 album Notorious, which was also co-produced by Rodgers. "Notorious was a strong touchstone for the band," says Roger Taylor. "All You Need is Now definitely reflected our earlier albums, but our starting point here was Notorious. We're fortunate to be able to be inspired by our own back catalogue – not many bands can say that."
Tracklist
1. Paper Gods (feat. Mr Hudson)
2. Last Night In The City (feat Kiesza)
3.You Kill Me With Silence
4. Pressure Off (feat Janelle Monae & Nile Rodgers)
5. Face For Today
6. Danceophobia
7. What Are The Chances?
8. Sunset Garage
9. Change The Skyline (feat Jonas Bjerre)
10. Butterfly Girl
11. Only In Dreams
12. The Universe Alone

Bonus Deluxe Tracks:
13. Planet Roaring
14. Valentine Stones
15. Northern Lights